We go through life looking for answers in all the wrong places, and sometimes there is never a good answer. Last weekend I attended my first blogger conference, BlogHer 2014. It was an amazing getting to meet so many virtual friends, and getting a taste of just how much I have yet to learn, about pretty much everything. There were some great speakers, including Kerry Washington who everyone (but me) seemed really stoked about seeing. I knew who she was in a general kind of way, but I have never seen Scandal, so I had no thoughts about who she was, or why she was there other than being famous (whatever that means). All the featured guests spoke in an interview format, and Kerry Washington, was interviewed by blogger Demetria Lucas. Not surprisingly, as this was an interview with a woman, the issue of body image and weight came up, I believe in reference to the recent birth of her first child, and her answer was astonishing. She said she never weighed herself, and she had put away her scale because "There's never a good answer there" she went on to say that either she was unhappy with the number, and it ruined her day, or she was pleased, and then didn't want to eat for the rest of the day.
This is what this incredibly smart, gorgeous,, thin woman, famed for her beauty said! She said it doesn't do anything positive for her to weigh herself. OMG. She said it like it was a perfectly reasonable, sensible thing to say, and yet it still filled me with a strange mixture of awe, shame, horror and relief. As if there are good reasons to put that scale away beyond just giving up. It made me question what motivated me to put away my scale. Did I do it out of a good, and healthy impulse, or out of resignation, and unwillingness to face my own reality. Does it have to be one or the other? The theme of this conference was "Selfiebration" which frankly terrified me. I rarely take selfies, in fact I took some satisfaction in an article I read about the narcissism inherent in this era of the selfie. I was greeted in my hotel room with encouraging stickers on the mirror, telling me I am enough (a message I never tire of hearing) and that I have never looked better (with which I beg to differ) and instructed to take some selfies with said stickers. And so I did: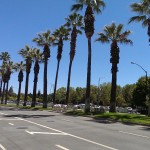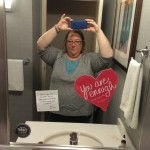 Clearly the center photo is just a nice picture of a deserted boulevard in San Jose, not a selfie. So where are my answers? Where should I be looking for the right answers? Not my mirror, or my scale, I have been looking inward for what feels like a hundred years, and still I look outside for approval, love, acceptance, for the proof that I am selfie-worthy. You may look at these photos and say 'you look cute' or 'happy' or 'good' and I look at them and just cringe. It has taken a lot for me to even post them. I think it's easy for Kerry Washington to toss her scale, and we admire her for it, and if someone like me does it, it seems pathetic. So, I keep searching in all directions for my own answers, my own peace, my own place where I don't feel like I'm taking up too much space. I will keep trying to find the right places for good answers, and keep trying to ask the right questions! So how awesome am I?