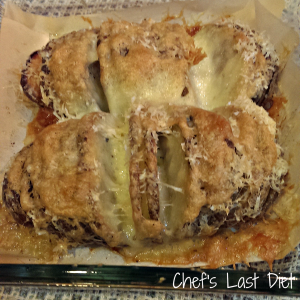 If you call could a potato hot, this dish would definitely qualify as a hot potato! Decadent, cheesy, and if such a thing is possible for a potato in your world, sexy. I have seen this recently on the Best Thing I Ever Made, and then again somewhere else, and I decided I needed to try that at home. The dish originated in Sweden at a restaurant called Hasslebacken, and considering it is a potato slathered in butter, topped with cheese and baked to crispy and gooey perfection I'm surprised this isn't something that restaurant chains like Friday's aren't offering daily. I love making things that don't require recipes, and can be adapted to what you have on hand. Some recipes including the one I cite above, from Robert Irvine, call for peeling the potatoes, I am one of those strange people who always eats the skin of my baked potatoes, so I skipped that step. Some recipes call for par-boiling the potatoes, and I skipped that too. The most challenging thing about this recipe is to cut the potatoes properly without cutting all the way through. I solved this by laying a chopstick on each side of my potato which stopped the knife at a perfect height. I did nick up my chopstick, so I don't recommend using fancy ones. I get mine at a nearby Asian grocery store in large quantities, and have many uses for them beyond eating Chinese food, but I'll save that for another post. In my fridge I happened to have three suitable cheeses, so I grated a combination of Asiago, Parmesan and Cheddar, about one cup, or a scant two ounces. I think Gruyère, or any hard cheese would be great for this. This is kind of an upscale loaded baked potato, so the addition of bacon, scallions or chopped ham would be nice before adding the cheese, and for toppings avocado or sour cream might be nice. We ate ours with none of those things, and we thought they were perfect. They could be a show-stopping side dish, though we had ours as a main course, with a salad for a great dinner. To make these, as we did here is what you'll need:
1 potato per person* (I used an Idaho baking potato)
1 tablespoon of butter per potato, melted
1 ounce of grated cheese per potat0
Pre-heat oven to 400
Wash and cut potatoes, use a chopstick or wooden spoon to keep the knife from cutting through the potato. Make cuts 1/8-1/4″ wide
Line a baking dish with foil or parchment (I prefer parchment because the melty cheese will come away from the parchment more easily than foil, and that crispy cheese is the best part)
Brush the potato with the melted butter, using one of your chopsticks to separate the slices to get the butter between them
Bake for 30 minutes
Remove from oven, and brush with butter again, fanning out the potato slices (this may have already started happening as the potatoes cook)
Bake another 30 minutes, them remove from oven, top with cheese, trying to get it in between the potato slices
Bake 10 more minutes
You will be a hero, I swear. What is your favorite potato dish?
*I don't recommend making extra, this is the kind of thing that won't improve with reheating