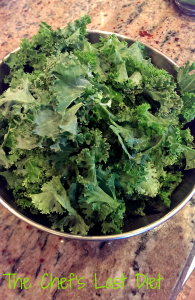 I like kale more in theory than in practice, but lately I've been making kale salads that are winning (even) me over. No matter what type of kale I use, I remove the stems, tear or chop it and blanch it to a brilliant green. I like to dry it well either in a salad spinner, or with paper towels so the dressing will cling to the leaves. Unlike lettuce, kale can stand up to dressing, and so kale salad from yesterday is still good, and to me there isn't much that's more unappetizing than dressed, wilted, soggy, leftover green salad.
The other night I threw a quick salad together and my daughter enjoyed it so much she asked me to pack some for her to take to school for lunch! All that was in it was kale and some tomatoes I had, with a vinaigrette. The other two have a few more ingredients, but all are great, simple salads that if you're trying to eat more kale, but would rather have broccoli may be a pleasant surprise.
I am a fan of building a salad. I used two different types of kale for these salads, but there's no reason to use one or the other, unless you're going to be saving some for another day, then the curly kale will hold up better, the lacinato kale will turn dark (but taste just fine). The curly kale is pretty chewy, even after being blanched, but the blanching will make it more tender. I used three different dressings, and again, those are interchangeable. These three are meant as the foundation steps to creating your own kale salad masterpieces that can serve as main dishes or side salads.
KALE AND TOMATO SALAD:
Blanch kale in boiling salted water for no more than 30 seconds, and remove to an ice bath immediately. Dry on a dish towel, or a salad spinner
Cut up you favorite tomatoes
Dressing: Olive oil, a nice flavored, or wine vinegar, and salt and pepper
Simple and wonderful!
KALE TOMATO and POTATO SALAD
I cut up five small gold potatoes, tossed them with some oil and roasted them for 20 minutes
I blanched the kale (see above) and added 2 small (vine on) tomatoes
For this salad I made a lemon dressing, in the food processor put the juice of 1 lemon, 1 clove of garlic, and while it is running, slowly add olive oil (about 3-4 ounces) add salt and pepper as you desire
KALE and CUCUMBER SALAD with GOAT CHEESE
Cut up 2 mini cukes (don't peel) into thin slices
Add about 3-4 ounces of crumbled goat cheese
Dressing: 2 TBL wine or cider vinegar, 1/4 cup olive oil, whisk in 1-2 tsp Dijon mustard