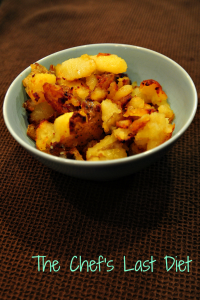 Christmas morning demands a special breakfast and these Christmas morning potatoes will delight everyone, including the cook, because you can get them ready a day or two ahead, and finish them off right before you want to eat them. These crispy nuggets of deliciousness are truly decadent, and though they'll make your breakfast extra wonderful, they're equally at home with prime rib or roast chicken for dinner. They're not really home fries, or oven roasted potatoes, though you can roast or fry them. They are addictive, and I had forgotten how good they are until last week when my friend Corrine and I went to Kensington Quarters for brunch and we had to order extra potatoes because they were so freaking good.
You can cut them or if you use small potatoes, just smash them. What you want is maximum surface area; the more surface, the more crisp. You also want the pieces large enough to leave you some interior to get the creamy that will contrast the crisp exterior. I bet you're salivating already, I know I am. There are a few things that are critical to getting the best outcome for these potatoes, but after that you're on your way to personalizing them:
Use any potato you like, I like Yukon Golds, but have used russets, red or new white potatoes
Don't peel them, the skin will curl around and get extra crisp
Boil and cut them a day or more in advance to help them dry out
Seasoning is up to you; I use salt and pepper, heavy on the salt
To achieve maximum Christmas morning potato greatness follow these easy steps:
Use a large pot, and fill 2/3 with cold water, add a handful of salt, and as many potatoes as you want. You should figure on about three people per pound. Two for big appetites, four for dainty eaters.
Wash potatoes, and put them into the cold water, whole and unpeeled
Bring to a boil, lower heat to a simmer, cover and cook until a knife goes in easily. For small potatoes about 15-20 minutes, for large ones it could take 30-35 minutes
Drain potatoes immediately. Let them cool in a colander for about 30 minutes or more. You want them cool enough that when you put them in a covered container in the fridge they won't create any condensation. If you need to put them in the fridge sooner, use a knife to make some slits in the plastic wrap you cover them with, or leave the lid of the container at an angle. You want them as dry as possible.
When you're ready to cook, either chop or smash the potatoes. You can also do a combination, by cutting into large cubes then smashing them. Or smashing the whole potatoes and breaking them into bite-sized pieces. This is an excellent task for any eager, unskilled labor you may have around.
If you're going to finish them in the oven, toss with a generous amount of olive oil, salt, pepper, and any other seasoning you like. Some suggestions: smoked paprika, curry, garlic salt, rosemary, or crushed red pepper. You could also toss in some rough chopped onions and/or peppers. Roast them in a hot oven at 400°F
If you're going to deep fry the potatoes, add onions or peppers to potatoes, and season after frying. I suggest making your seasoning mix in a bowl and tossing the potatoes with the seasoning in batches.
These potatoes are a great addition to either a sweet or savory breakfast. If you're looking for some breakfast ideas, here are some from Christmases (and other mornings) past corn fritters, quiche, scones, savory bread pudding, but a pan of scrambled eggs would work too.
Whether you celebrate Christmas or not, you'll probably have the day off, and will surely want breakfast, so go ahead and make these tasty taters, to add some texture and joy to your morning.
Wishing You a Happy Winter Solstice!