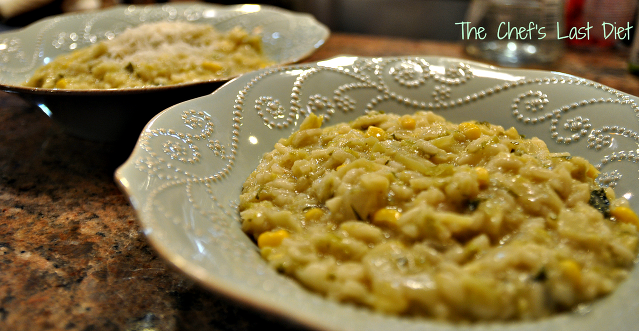 I love risotto, but I often forget about it, remembering only when I come upon it while looking for something else in my cupboards. Last week I was looking for ideas for dinner and stumbled on that half box that's been there a while. I had time, and a container of Brussels sprouts which seemed like an odd combo, but I thought I'd forge ahead. It turns out there are plenty of recipes out there for this very dish, but I hadn't bothered to look before I leapt. I only just did a search to see if this dish exists, and my search yielded 279,000 results. So much for my original idea.
Risotto is traditionally made from one of the varieties of short-grained rice. Carnaroli is said to be the best type, producing the creamiest risotto. It can be harder to find than Arborio which is available at most grocery stores and is what I generally use. When I can find Carnaroli I buy it. The other types are Calriso which is a domestic rice, and Vialone nano, used in the Veneto region of Italy, neither of which I have tried, but when I do I'll be sure to update this post. Having used both Carnaroli and Arborio I prefer the texture of the former.
Based on the images I saw, most people cook their Brussels sprouts separately then add them to the risotto preserving their green color far better than I did by cooking them together. Conversely mine melted into the rice mixture and their flavor mellowed as they cooked. It wasn't a beauty dish but the flavor was rich and the texture perfectly creamy and luscious. By a unanimous vote of two we agreed this dish was a 'make it again' dinner. We topped it with obscene amounts of fresh grated parmesan cheese, but I had some leftover the other day with no added cheese and it was still damn good.
If you feel intimidated by making risotto, please let me show you how easy it is. It is a bit time consuming, and requires some attention, but it's hard to screw it up. Some people will tell you it's necessary to stir it constantly, but that's not true, I learned from a chef who said you could add the liquid in three steps, give it a few good stirs each time, then let it cook while the rice absorbs the liquid. I do a version of this, and I get a nice, creamy finished product in about 40 minutes and have time to make a salad while it's cooking.
In Italy risotto is generally a first course, not a main dish, but once you start tossing more things into it, it makes a nice meal with a green salad which is how we eat it. There are literally hundreds of iterations of risotto, varying from season to season from light to classic, to rib stickingly rich. This recipe came together based on what I had on hand, and you can do the same as long as you have the right type of rice and stock. Is risotto part of your repertoire? And if so what is your favorite was to make it?
Brussels Sprout Risotto

Print recipe
| | |
| --- | --- |
| Serves | 4 |
| Prep time | 45 minutes |
| Cook time | 40 minutes |
| Total time | 1 hours, 25 minutes |
Ingredients
1 pint Brussels sprouts
1 1/2 cup Carnaroli or Arborio rice
4 teaspoons butter
5-6 cups stock (vegetable or chicken)
1 cup fozen corn
1 cup grated Parmesan (more for topping)
Directions
Step 1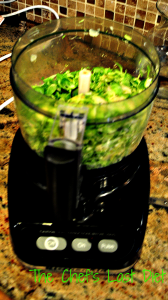 Slice Brussels sprouts into ribbons in a food processor
Step 2


In a large, wide bottom pot, melt 2 tablespoons of the butter over medium-low heat
Bring the stock to a simmer, and keep simmering over lowest heat
Add Brussels sprouts to butter and cook until they are starting to soften, about 3-4 minutes
Add rice to pot and stir until rice is coated with butter and becomes translucent


Step 3


Lower heat and add about 1 1/2 cups of hot stock to rice
Stir well, and let rice absorb stock, stirring occasionally
When all stock has been absorbed add the corn, and another 1 1/2 cups and repeat
When that stock has been absorbed add 2 more cups of stock and stir
Continue stirring until that stock is absorbed
Taste the rice to see if it the proper consistency; creamy but not mushy. If rice is chalky inside it isn't done yet
Add another cup of stock, or water, and stir until rice reaches proper consistency and liquid is absorbed.
Stir in remaining butter and cheese, and taste to add salt or pepper
Serve with additional cheese