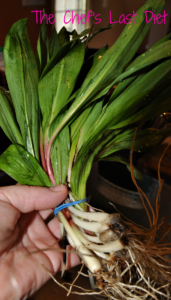 It's spring, and it finally feels like it (after that week or so tease in March) and Fresh Direct *was offering a deal on wild, spring ramps this week so I thought I'd ramp it up. I am embarrassed to admit I've never cooked with ramps before, and my planning for their arrival was typically not well thought out. Nevertheless they arrived and not wanting them to rot in my fridge I got started on using them. After a quick inventory I decided on a mushroom and ramp quiche made with smoked Gouda, which turned out to be a fine decision.
I am not a gardener, but my mother was an avid one, so some information managed to seep into my brain, so I know that leeks, garlic and ramps belong to the allium family which also includes alliums (those purple puffs on tall stems) as well as lilies. I have never done it, but it seems garlic is pretty easy to grow. Maybe one day when I have a sunny garden I will give it a try.
The ramps were grassy with some tang, but weren't as intense as I had expected. They paired well with the mushrooms and smoked gouda I had on hand. The star of the dish though turned out to be the crust which I flavored with some dry dill, and pulled the whole thing together. I used the entire ramp, chopping the root ends and making a chiffonade of the leaves, by stacking then rolling them, and cutting them into thin ribbons.
Ramps are as dirty as leeks, so you need to wash them really well. I washed mine three times before they were dirt free. You could make this quiche with scallions, but it's worth seeking out wild ramps this time of year. I will be trying out some more ways of using them, so more recipes are pending. If you've cooked with them, how do you like to prepare ramps?
Ramp and Mushroom Quiche

Print recipe
| | |
| --- | --- |
| Serves | 4 |
| Prep time | 30 minutes |
| Cook time | 1 hour |
| Total time | 1 hour, 30 minutes |
Ingredients
crust
1 1/2 cup flour
8 tablespoons butter (1 stick)
2 tablespoons dried dill
1 teaspoon kosher salt
5 tablespoons ice water
filling
8oz mushrooms (white or baby bella, sliced)
2 tablespoons olive oil
4oz smoked gouda (shredded)
3 Large eggs
1 cup milk
1 cup heavy cream
1 teaspoon salt
fresh ground pepper
Directions
Step 1


Cut butter into small pieces
Put flour, salt and dill into the bowl of a food processor and pulse a few times to combine
Add butter to flour mixture and run until the mixture resembles coarse sand
Add water 2 TBL at a time, and pulse until mixture come together
Form into a ball, flatten into a 1" thick disc, cover and refrigerate at least 30 minutes and up to 24 hours
Step 2


Chop root ends of ramps into 1/4" pieces
Separate out three of the prettiest leaves for garnish
Roll the remaining leaves into a tight "cigar" shape, and cut into thin ribbons

Step 3
Heat oil in a large sauté pan over medium high heat. Add mushrooms, and sauté 3-4 minutes, add root part of ramps, and continue cooking for another 4-5 minutes, stir in chopped leaves and stir together for another minute or so
Set vegetables aside and allow to cool
Step 4


Preheat oven to 375F
Roll out dough and fit into 9" pie pan, making an edge with the crust to contain the liquid that will be going in.
Weight the crust, and blind bake for 15 minutes
Let cool for ten or more minutes before adding filling
Step 5


Mix eggs, milk, and cream together, season with salt and pepper (this is the custard)
Lay the cheese on the bottom of the cooled crust
Top with mushroom and ramp mixture
Pour custard over cheese and vegetables
Lay the three leaves on top of the quiche, dipping into the custard mix so they don't dry out

Step 6
Bake for 40-45 minutes
Quiche should be a little wobbly, but when a knife is inserted it should come out clean
*(I receive nothing from Fresh Direct for this or any other mention)