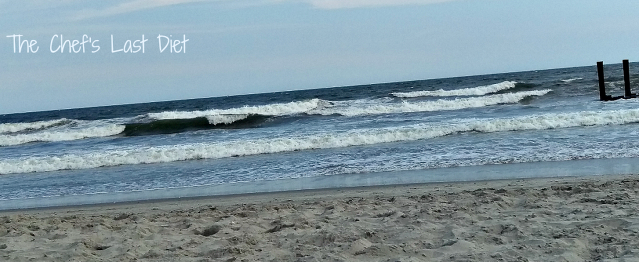 This year is the first I can remember that we did not take a summer vacation. We often make a trip to Boulder to see one of my dearest friends, and last year we made our epic (at least to us) Pennsylvania Road Trip. We did make it to the beach for one day last week, and though it was a short trip; two nights, one day, it was a nice break. I made an uncharacteristic, spontaneous decision, I decided Wednesday we'd drive down to the Jersey Shore that night, and return Friday so I could work. When I got home from work, we packed and took off.
Driving to the shore from Philadelphia can be a nightmare, as almost any trip to any beach is, but making the drive on a Wednesday and Friday made it painless; one hour both ways. It made me think we should do it more often. We stayed in Atlantic city, because I found a great hotel rate. The hotel was nice, though not on the beach which meant driving and paying to park, though in Atlantic city you don't need the beach tags that almost every other beach community requires, so kind of a wash money-wise.
We arrived hungry and by the time we'd checked in and parked it was almost 8:00, a late dinner for us. I Yelped (my go-to for dining out in new places) and found a tiny taco place—Pancho's Mexican Taqueria . We sat at the counter because all the tables were either taken or uncleared. The menu was limited, but my vegetarian daughter and I found appealing choices.
We watched a petite woman, working from a mountain of masa dough, form and cook tortillas to order. Rachel had a guarache; a flat and thick-ish long flatbread topped with queso blanco, tomatoes, lettuce fresh cilantro and a ton of avocado, and a tamarind soda. I had the tacos al pastor (a favorite of mine). If you love tacos and plan to go to Atlantic city you should definitely check Pancho's out.
I love going out for breakfast. I found a place that sounded great, with outside tables, right on the bay. The sea breeze and view made it feel like vacation. The service was as lousy as the coffee. We shared a short stack of their "famous" blueberry pancakes. Their's were good but mine are better. The rest of breakfast was mediocre.
We crammed as much as we could into our abbreviated summer vacation. I found great bargains and fall clothes for Rachel at H&M. We slept late Thursday, dined out, lounged at Starbucks over icy coffees, napped and even got in some beach time and a dip in the ocean. We hit the road by 7:30 am Friday, and I got to work by 10:00.
I don't like summer weather, and I'm glad it's almost over, even so the end of summer makes me a little sad. One last weekend of summer break remains. We'll spend it relaxing, going to the movies, getting ready for the school year and making tomato jam. I hope you had a chance to take a summer vacation, I know we're already thinking about what we'll do next year. Maybe we'll take a trip to Maine, one of the (few) states I've never visited. Chef's Last Diet is taking the week off, so I'll see you again on September 12th.