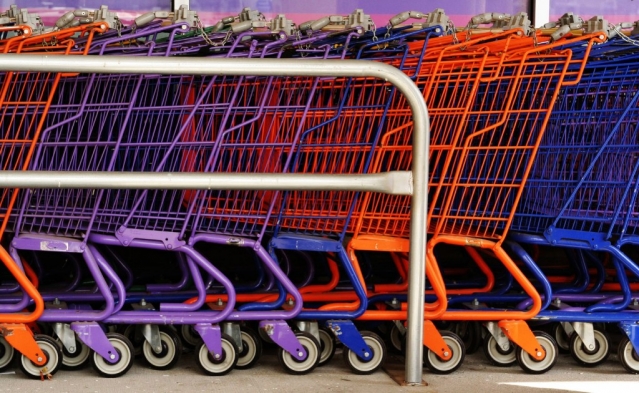 I love going food shopping, I always have. When I travel I love to wander through food markets, small shops, and large grocery stores. This is something I've done my entire life. As a kid, then later as a college student I'd prowl the basement supermarkets on Canal Street in NYC' s Chinatown. A trip to Mexico City when I was in high school found me mesmerized at the tortilleria down the street. We watched as a woman and her young daughter sat making hundreds of tortillas, wrapping them and sending customers (including me) off with bundles of them, still warm. My first trip to New Orleans I spent more time in the tiny food markets off Bourbon Street than in late night clubs drinking Sazeracs.
For more than fifteen years I worked at Whole Foods Market, so food shopping was a no-brainer. I'd shop almost daily, occasionally venturing out for some extra curricular shopping at Super Fresh, Reading Terminal Market or farmers' market. Most of the food I bought was from Whole Foods. There were things like Scott toilet paper, Carolina Rice, and lived with someone with a Diet Coke addiction that had to come from elsewhere. There were temptations at the conventional markets, bargains and contraband such as Hebrew National pigs in blankets and dill pickle relish.
These days my shopping habits have changed drastically. I have many more options, including companies who will bring my groceries to my house inside a two-hour window of my choosing, Blue Apron who will send me all the ingredients I need to make meals, Target, Costco, Wegman's as well as Whole Foods Market. There are particular things I can only get from one vendor, which necessitates a more random approach. As a side note I did try Blue Apron. The food was fine, but it didn't suit my style of cooking.
A few weeks ago a friend's husband asked me about where I shop. His wife, he explained, shopped at several different stores depending on any number of factors. "Me too" I said. He looked crushed. He took this news badly. Annoyed and perplexed by the reasoning we offered, and the sheer inefficiency of it all, as if efficiency was one of our goals. Though I understand shopping isn't for everyone, I'd rather spend an hour cruising the aisles of almost any grocery store than watching football (or any other sport).
I make a few lists with no regularity at all. Fresh Direct is so easy they not only deliver to my house, they bring the groceries upstairs. Every couple of weeks, they have decent sales. We love their pizzas, one with fig, caramelized onions and feta, and the artichoke and spinach. Their deli ham is the best I've tried (except for the ham from Kensington Quarters which amazing, but inconvenient). They carry brands I like such as Califfia Farms, and their house brand stuff is very good. Wegman's has the crispy rice rollers my daughter loves, a vast olive bar, those crazy delicious shrimp on their Asian hot bar and I'm always up for a trip to Jersey for some cheap gas (at least for now.) For local shopping I alternate between Whole Foods and Acme depending on what I need.
You might call my habit food shopping BINGO. It's not the best system, as invariably I return home having forgotten to buy/order at least one thing. Last week I went to Acme to buy just four items, and forgot one of them; the chips for my black bean burgers. This meant a trip to Wawa because I was too embarrassed to go to Acme twice in one day. I am optimistic about perfecting my system one day, but I try to stay realistic. In the meantime, I take advantage of proximity to my favorite stores. I try new ones when I get a chance, and spend way too much time food shopping.