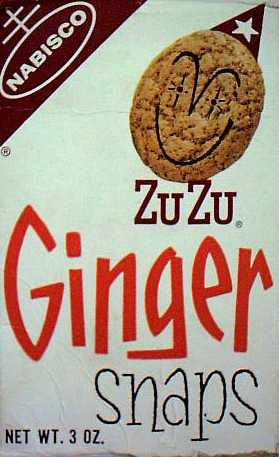 Stuffed cabbage is one of my childhood favorites. My mom made hers with a secret ingredient; ginger snaps. I found the recipe in a spiral bound cookbook that was put out by the Nassau Community Temple Sisterhood group cookbook. The book is probably from the 1960's, but I can't be sure because the cover (as well as the first four pages) is missing. This cookbook is a treasure trove of 1960's era food. in the 180 pages there are four stuffed cabbage recipes.
← These Nabisco ginger snaps were nowhere to be found, so I used my store brand. I was happy to find the photo so I'd know how much to use. Now I have a lot of ginger snaps left, so you may be seeing some more ginger-y recipes. I'm already thinking about a ginger-snap crusted pie.
My mom wrote her recipe in pencil at the bottom of Ethel Klinek's recipe. Many of the ingredients don't have amounts listed. There is also a note from Harriet Shapiro advising us to add 1/4 cup of raw rice. Oddly Ethel's recipe doesn't list cabbage in the ingredients. She does advise us to roll the meat mixture in cabbage leaves that have been softened in boiled water.
I love stuffed cabbage, but it's a lot of trouble to roll and stuff the leaves, so I thought I'd try deconstructing it. Maybe I could recreate the flavors using all the elements without the rolling.You could make this on the stove or in a slow cooker. I have included directions for both If you make it on the stove make sure you stir often to keep the tomato from burning, so stir it every fifteen minutes.
My first taste brought me back forty or more years. A nice balance of sweet and sour, and the mild ginger flavor were just what I'd been looking for. This was a great, deconstruction of one of my childhood favorites, and I'm sure I'll be making it again. Thanks to the Nassau Community Temple, and my mom for this traditional and perfect fall dish.
Deconstructed Stuffed Cabbage

Print recipe
Ingredients
1 Small head of cabbage (about 1 1/2 lbs)
1lb ground chuck
1lb ground pork
1 Large onions (peeled and diced into 1/2)
6oz carrots (peeled and sliced)
2 cloves garlic (smashed)
1 lemon (juiced)
2 cans tomato paste (6 oz. each)
1 cup raw rice
3oz gingersnaps (ground in food processor)
1/3 cup brown sugar
2 teaspoons kosher salt
1/3 cup currants (or raisins)
Directions
Step 1


Heat a large pot over medium-high heat, and add beef and pork
Stir and cook until meat is brown
Remove from pot to a bowl
Step 2


Reduce heat to medium and add onions, cook, stirring often, for five minutes
Add garlic and cook one more minute
Add rice to pan and stir until rice becomes translucent
Step 3


Add tomato paste to pot and stir well, adding lemon juice and cans of water
Use the water to get any remaining paste out of the cans
Cook on medium for a minute or two, then add remaining water, salt, sugar, gingersnaps, raisins, cabbage, carrots and meat
Stir well to combine
Step 4


Reduce heat to a simmer, cover and cook on lowest heat for 90 minutes, stirring often
If you want to use a slow cooker, move all ingredient to slow cooker and cook on low for 2 hours until cabbage is tender.