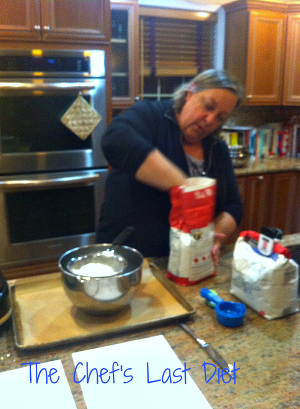 The weather this week went from the 80's to the 50's literally overnight, so it time to turn on the oven and get baking. I made some amazing peanut butter cookies Friday, thanks Food 52. This week I roasted green beans, chicken and shrimp. This morning, I put on a cozy, I'm not planning to leave the house, nobody better see me in this, outfit, and decided to do some baking. And what better to bake on Sunday morning than scones?
When I peruse my index of recipes, there are many scone recipes, so did I really need another one here? Apparently I did. Last week as we were finishing up some oatmeal, maple scones (someone else's recipe) we talked about our favorite ones. Rachel started by saying the ones she liked best had nuts, or cheese, or both, or fruit, or nuts and fruit… in the end she couldn't choose a favorite. Me either. Until now.
Ginger snaps added a nice zing that complemented the creamy, sweet pear. I used bosc, my favorite pear, but any ripe pear will do. A box of ginger snaps is sitting on my counter asking to be put to work. I bought them for the deconstructed stuffed cabbage I mad last week.
Scones are the perfect Sunday morning project. They are easy to make, and don't require great care, technique or patience. You can make them before you drink your coffee (I did). You can throw them together, and clean up while the scones bake and the coffee brews. I have a basic scone recipe that I use most of the time, but for this recipe I needed to change things up a bit.
I used a mix of butter and lard and added more liquid to make up for the added dry ingredients of the cookies. The lard make the scone a bit more tender, but if you don't have any use all butter. The results were a tender and tasty scone that didn't need either the jam or butter we generally slather on. But feel free to slather away, no matter what day of the week it is. I'm so glad I decided to get baking on this chilly morning.
Pear Ginger Snap Scones

Print recipe
| | |
| --- | --- |
| Serves | 7 |
| Prep time | 10 minutes |
| Cook time | 20 minutes |
| Total time | 30 minutes |
| Meal type | Breakfast |
Ingredients
2 cups flour
4 teaspoons baking powder
1/2 teaspoon ground ginger
1 teaspoon kosher salt
4 tablespoons cold butter (cut into small pieces)
2 tablespoons lard
2 Large eggs
1 cup heavy cream
10 ginger snaps (about 3 ounces)
1 pear (peeled, cored and cut into 1/2)
1 tablespoon brown sugar
Directions
Step 1


Preheat oven to 425 F (400 if using convection)
Break up ginger snaps, and put into food processor to grind fine
In the bowl of a mixer, mix flour, baking powder, and salt
Add butter and lard and mix until mixture resembles coarse cornmeal

Step 2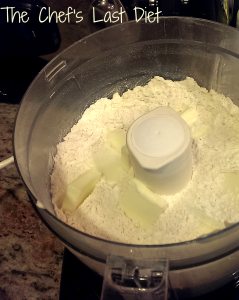 Beat eggs and cream together
Add egg mixture to bowl of mixer, and mix until just combined
Add ginger snaps and brown sugar and mix again

Step 3


Add cubed pears and mix by hand
Scoop batter onto a parchment lined pan
Bake 20-22 minutes until golden brown, and a toothpick inserted into scones come out dry