It's election day and I live in a state without early voting, so everyone who is going to vote is doing it today. Like many Americans (and others who worry about the state of the world) I'm a little anxious. I may bake (that helps) and try to stay away from the news until tonight when there will be actual news, rather than eleventh hour speculations pretending to be news. Because soup would soothe my mind and belly, that's what I made. It is the perfect fall soup, whether or not it's election day.
I love soup of all sorts and I've had a butternut squash sitting on my counter for two weeks. That squash has been mocking me and I've been trying to decide what to make with it as if this would be my last chance to cook butternut squash. (Let's hope it isn't.) I also have two pears slowly disintegrating in my fruit bowl, that require immediate attention. They will be a nice addition to my roasted butternut squash soup. Squash soup is lovely with apples too.
Roasting will make concentrate the flavors, and mellow the shallots and garlic. The pears add a subtle flavor and the soup isn't overly sweet, and the sage is a nice counterpoint. Sage is so great with orange vegetables. I used chicken stock, but you could make it with vegetable stock. I also added a bit of cream which makes the texture velvety, but it tastes great without the cream. If you're looking for a soup to serve for Thanksgiving this would be a good choice. It would also be a nice dinner for election day while you watch the results, and drink, a lot.
Pear, Sage and Butternut Squash Soup

Print recipe
Ingredients
2lb butternut squash cubes (Cut into 1/2)
2 Medium pears (peeled and cut into 1)
3 Medium shallots (sliced thin)
3 Large cloves garlic (peeled and left whole)
2 tablespoons snipped sage leaves (or 1 TBL dried sage leaves (not ground sage))
olive oil
1 quart stock
2-3 teaspoons kosher salt
1/2 cup heavy cream (optional)
Directions
Step 1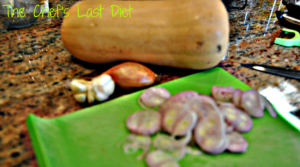 Preheat oven to 300F
Combine cubed squash, shallots and garlic in a bowl, and toss with oil
Lay on a sheet pan lines with parchment or foil and roast for one hour
(If you are using pre-cubed squash the cubes will be larger, so will need more time to cook, so put the squash into the oven for 20 minutes, then add shallots and garlic, and continue to roast for another hour)
You want the squash and garlic to be tender
Step 2


Heat enough oil in the bottom of a soup pot to cover, when the oil is hot, add the sage leaves and saute until they are fragrant and starting to turn dark
Step 3
Add squash mixture and stock to pot
Add pears, and remaining salt
Bring to a just boiling, then reduce heat and simmer for 30-40 minutes
Step 4
Using a stick blender, regular blender, or food mill, puree the soup
Taste for seasoning
If you are adding cream return pureed soup to pot and over low heat stir in cream, and let cook for another 5 minutes