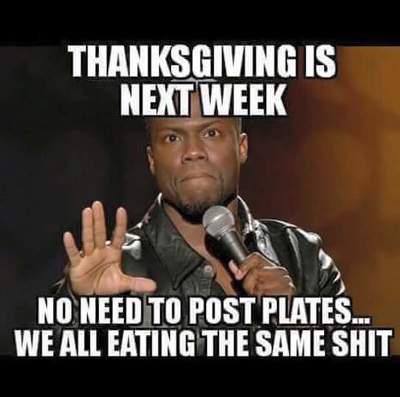 Most everyone will serve mashed potatoes for Thanksgiving this year, but not all. All of us—Americans have an idea of what belongs on the table, but that idea is as varied as we are. America is a country made up of (mostly) immigrants, and even at Thanksgiving, diversity is what's on the menu. I love Kevin Hart, but he is wrong, we're not all eating the same shit.
Almost everyone will have roast turkey, this much is true. No matter how you like your turkey, smoked, deep fried or grilled, it is the common denominator. Some will also have ham, lasagna, pernil, or no meat at all. Our gravy will be made with reduced red wine, yours may be from a packet or jar, you may put chopped hard boiled eggs in it. (I'm not a fan but it's a Southern thing). I love gravy, and turkey gravy is my favorite.
I love reading about what people eat, and I particularly love reading about what they eat for Thanksgiving. In addition to our nation being a melting pot filled with so many rich cultures, we are also geographically huge, so many of the differences at out tables reflect local flavors. If you are from New England you are likely to include oysters on your menu as stew or in stuffing.
Southerners have macaroni and cheese, and/or rice, and sweet potato pie. Squash is a big favorite in New England, and people in the western third of the country prefer cherry to apple pie. For my family there are three pies we always have; apple, pecan and pumpkin. One of my all-time favorite articles about Thanksgiving food across America is from the New York Times 2014.
Which brings us back to mashed potatoes. Some people swear it's not a proper Thanksgiving without them, and other say why bother? As I've said, my family is not big on them. The main reason to have mashed potatoes is to hold the gravy. I put gravy on almost everything, and though I love mashed potatoes, I'd rather save room for more stuffing. If you've got to have mashed potatoes, and they're merely a vehicle for the gravy, then you want the silkiest ones you can make. Or maybe this is the year you shake things up and make the mashed potatoes to go with the leftover turkey for lunch Friday.