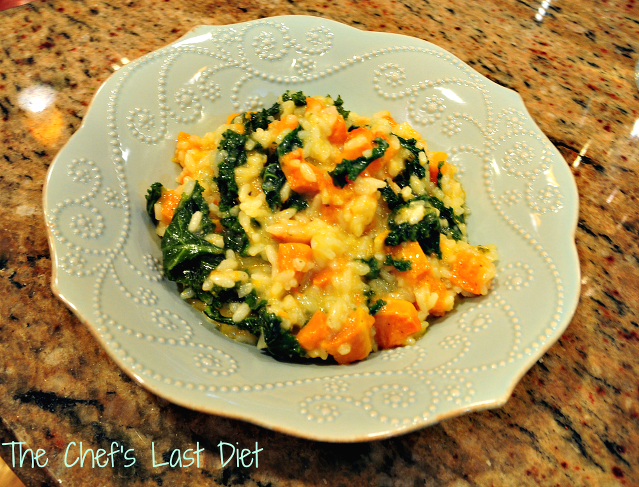 Winter risotto is just what you need on a cold winter night. This one takes a few steps, but there's no reason you couldn't do all the prep over the weekend and toss it together on Wednesday night. I had a nice big butternut squash a friend gave me, and it was just the right amount. I like those big bags of chopped kale, so that's what I used, but you can use any type you like, and the amount is up to you.
You could use any kind of green, including spinach. If you use fresh leaf spinach don't add it until you add the squash. I am particularly fond of sage with all orange veggies. No need for fresh sage, I buy rubbed sage, then measure it into my hand and rub my hands together to add it. This is a best practice for all dried herbs, plus your hands will smell nice.
One of the penalties I've paid for raising a child with a sophisticated palate is that when I buy Grana Padano (less expensive than Parmesan) she helps herself to a curl of cheese with a peeler, and gives me the look and says "This isn't Parm is it?" Nope, it's not, but it's fine in dishes like risotto and macaroni and cheese. This will be delicious with either, but please, not green cans!
Butternut Squash and Kale Risotto

Print recipe
| | |
| --- | --- |
| Serves | 4-6 |
| Prep time | 30 minutes |
| Cook time | 1 hour |
| Total time | 1 hour, 30 minutes |
| Meal type | Main Dish, Side Dish |
Ingredients
1 Medium butternut squash (if using pre-cut squash, about 3 cups)
2 tablespoons olive oil
2 tablespoons dried sage
2 teaspoons kosher salt
2 cups arborio rice
6-8 cups chicken stock (or vegetable stock)
2 tablespoons butter
3 cups kale leaves (stems removed and torn into small pieces)
3/4 cups grated Parmesan
Directions
Step 1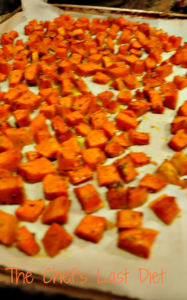 Preheat oven to 350F
Peel, seed and cut squash into 1/2" cubes
Toss squash with oil, salt and sage, lay on a parchment lined sheet tray
Roast for 20-25 minutes until squash is soft and starting to brown on the edges
Step 2


In sauce pan heat stock to boil, reduce heat to keep on lpow simmer
In another larger stock pot melt butter, and heat over medium heat until bubbles subside
Add rice and cook, stirring until rice become translucent
Step 3


Lower heat to simmer
Add 1/3 of stock to rice and stir (you don't have to stir continuously I swear) every few minutes, until all liquid is absorbed
Add another 1/3 of stock and repeat above
Step 4


When 2/3 of stock has been added, stir in kale and remaining stock
Stir until most of the liquid is absorbed, taste to make sure rice is cooked to your liking
I like it creamy, some people like a bit of bite, your risotto, your choice
When rice is cooked add in squash, and cheese, stir, and taste for seasoning