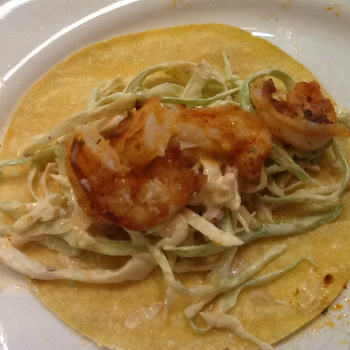 If you're looking for a great meatless Monday dinner, how about fish tacos? We have shrimp or fish tacos for dinner almost every week, though rarely on Monday.
A few years ago we rented a house with some friends in San Diego and our agreed upon goal was to eat as many tacos as possible in the week we were there. We became fairly expert at choosing and ordering the best ones. Sure we did some cooking too, that's what happens when all three adults went to culinary school, and share a house with three kids; nonstop great food, and lengthy discussions about what to cook/eat.
Once we returned home we were hooked on the whole taco thing. I haven't found a local source for the tiny corn tortillas you find everywhere in San Diego, but we use a good brand of handmade 6″ corn tortillas. This is the kind of dinner that can go from idea to plate in about 45 minutes.
If we're using frozen shrimp (and we usually are) they'll defrost in a bowl of cold water while I throw the slaw together. I am generally lazy and buy a bag of pre-shredded cabbage, and make different dressings. Sometimes I make an oil and lime juice vinaigrette, other times a mayo and vinegar one. I've made slaw using other greens like kale as well.
I like tossing the shrimp with oil, garlic, smoked paprika, and/or chili powder. If you like things spicy you could add some chopped jalapeno or hot sauce. If I've managed to plan I might have some avocado and tomato to slice up for a side salad. Last night we added some rice and black beans. I'd recently bought some frozen cod, and we didn't love it, but when I seasoned and pan fried it made great fish tacos.
If you're looking for a quick and tasty meatless Monday dinner these fish tacos are a favorite at our house.