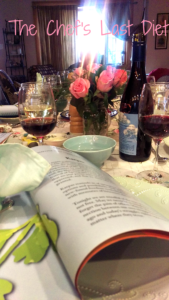 Seders traditionally begin with the youngest person at the table asking the Four Questions, starting with "Why is this night different from all other nights of the year?" Tonight is the first night of Passover, but my semi-observant family had our Seder Saturday night. We spend two holidays a year together; Passover and Thanksgiving. This year the Seder was at my house because we are observant enough to hold a Seder, but not enough to wait for an inconvenient weeknight.
The four questions are:
Why is this night different from all other nights?
On all other nights we eat leavened products and matzah, why on this night do we eat only matzah?
On all other nights we eat all vegetables, why on this night do we eat only bitter herbs?
On all other nights, we don't dip our food even once, why on this night do we dip twice?
On all other nights we eat sitting or reclining, why on this night do we recline?
The rest of the evening is devoted to reading the Hagaddah, answering those questions, retelling the story of the Jews' Exodus from Egypt, and eating.
There are certain foods we eat at Passover, and rarely, if ever any other time of year. Probably the most hated (certainly by newcomers) is gefilte fish. It is a sort of rough chopped, less refined, Jewish quenelle. This is definitely something that we only eat at Passover. I don't know anyone who makes it, and whenever I buy it I am overwhelmed by how many options there are. This year I opted for whitefish and pike, and it was a fine choice. If you use enough horseradish it's pretty tasty. This is the first food we eat about an hour into the Seder.
The second course at every Seder I've attended is matzo ball soup. I love matzo ball soup and make it autumn through spring. I used to bring a large batch to work each year to share. Once I brought a container with about a quart of soup and 18 matzo balls and handed it to the grocery manager to share among all ten department managers; he misunderstood and ate all of it. I do make good matzo ball soup, but eating that much is quite a feat.
I grew up eating brisket, which is what many people eat as their main course. Some have turkey I hear. We switched to salmon when my daughter gave up meat, and we all agreed we prefer it as there is so much food the salmon is a lighter alternative. We had ours slow roasted which I recommend as it's nearly impossible to overcook, and timing can be a challenge at a Seder. Our side dishes were a very wonderful saffron quinoa with toasted almonds and dried cherries, and a platter of roasted vegetables I'd made a day ahead and served at room temperature.
My older sister led the Seder and brought the haroset. For dessert, my younger sister makes a lovely pistachio cake that we request annually, and serve with macerated strawberries, (homemade) whipped cream, and the obligatory macaroons. I have been distracted so I forgot to buy decaf coffee, and we all decided more wine was fine. As part of the Seder, we drink four cups of wine throughout the ceremony, and though I never manage four cups, I drank more than usual so I slept badly and woke grumpy.
So, why is this night different?
We spend it with family talking about who we are and how we arrived where we are. We look back to the days we were slaves, and we commit to making a difference for people who are still oppressed
We eat matzo to recall when we were refugees and fled our country in haste, for a better and safer life
We eat bitter herbs to remind us that once we were slaves, and that no one should be enslaved
I found any number of reason why we dip twice, we dip our parsley into salt water to remind us of the tears we shed as slaves and we dip the haroset to remind us of the mortar used to make bricks, there are other reasons offered by different teachers/rabbis. Some say dipping is to remind is that the Jews dipped hyssop branches into the blood of slaughtered lambs to mark their homes so the Angel of Death would pass over their houses, another said it was in commemoration of Joseph whose brothers dipped his coat of many colors into blood when they lied to their father saying Joseph had been killed. One rabbi claims dipping was something only the wealthy could do, that as poor slaves we were denied the luxury of dipping our food into sauces. Who knew dipping was so complicated?
Finally, we put pillows on our chairs to 'recline' to show we can now eat in comfort and relaxation, something we were unable to do as slaves.
If you have never been to a Seder, I recommend it. They are generally fun, lively and geared towards teaching children and guests an interesting story. We spend less and less time learning about history and how it has shaped who we are as groups and individuals. As Americans, we (almost) all have a story about how we got here, when and why we came. The idea of an Exodus is universal, and as Jews, we have been through many. The story os Passover is one of the stories that ground us in our history as Jews, as family and tells us why this night is different from all other.
Slow Roasted Salmon

Print recipe
| | |
| --- | --- |
| Serves | 8-10 |
| Prep time | 5 minutes |
| Cook time | 30 minutes |
| Total time | 35 minutes |
Ingredients
1 Side salmon filet (about 3.5-4 pounds)
2/3 cups grainy mustard
2/3 cups mayonnaise
2 tablespoons chopped fresh dill (more dill, not chopped, for garnish)
Directions
Step 1
Mix mustard and mayo together to make a sauce. Set aside 1/4 cup to spread on fish, the rest is for the table.
Preheat oven to 275F (250 for convection)
Step 2
Lay salmon on a parchment lined sheet pan, and score (cutting but not through to skin) into portion sized pieces) about every 2"
Cover salmon with sauce
Step 3
Roast salmon for 30 minutes. If you're not ready to eat, turn off oven and leave fish until ready to serve
Step 4
Add chopped dill to remaining sauce and serve on the side.
Garnish salmon with springs of dill