After everyone goes home the quiet work of putting my house back in order begins. This work is calmer, more hushed than the frenzy of preparation. With most holidays there are at least two days of preparation just for the food. Add to that the cleaning, tidying up and readying the house for overnight guests. I'm not the most fastidious housekeeper, so there is always lots of dusting and neglected corners to attend to. Getting ready is an entirely different rhythm from putting the house back in together.
Once everyone has gone home I take on the inevitable extra laundry of sheets and towels, put away all the dishes and silverware, and stow the big soup pot that only comes out for holidays. I do all of this in an efficient, orderly fashion, but the work I look forward to most is the quietest work of all. Once I've treated the table linens to remove red wine and various other stains and washed them I set up my board and take out the iron. It's time to iron the napkins.
We use cloth napkins all the time, but for special occasions, we use the beautiful linen napkins that belonged to one of my grandmothers. They are heavy, silky and lush. I have a few sets. Some are pale and creamy, one set is a soft peachy-pink on ivory. The ones we used recently are a pale blue with a contrasting paler blue accent border. They are probably older than I am. I have a matching tablecloth as well, but this year I got a new one that looked pretty with my antique napkins.
I pull them from the dryer when they are still damp. This makes them easier to smooth out. Not many people enjoy ironing, but I have always loved it. I remember watching the older women in my family sprinkling the fabric with water and the hiss as the hot metal hit the wet spots. Then came the smell of the fabric heating up, and the pleasure of watching the wrinkles as they vanished under the heat and pressure of the iron. Now I am the woman with the hot iron.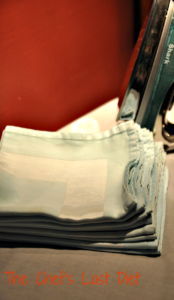 I slowly glide the iron over the surface, using the squared end to keep the angles sharp and work from the corners in. I make the first fold to form a crisp edge then fold again, into a square, making sure the edges match evenly adding each one neatly to the stack as I go. One, two, three… ten. I work alone with no noise, no music or TV, just my quiet breathing as I concentrate on this simple and satisfying task. When I get to the last one I feel a mix of satisfaction and sadness at finishing.
Now that the ironing board is out I wonder what else might I iron? I'm not yet ready to break away from this peaceful interlude. Once I go back upstairs I'll find disarray. Things are still chaotic; everywhere I look there is something else I need to wash or put away and the tall people have left, so I have to get out a step stool to finish cleaning up. I have to finish cleaning up period. I hate cleaning up. I'm happy when I'm done, but I'd rather be reading, writing, napping or ironing. I'd rather be doing math problems.
I don't know the next time my family will gather at my house. My two sisters and I rotate through the holidays, but not always in strict order. I love having everyone here; it makes my too big house feel less big. I like the noise and the planning and all the food, including the leftovers. Our time together is always brief. This time everyone was here for less than 24 hours. When they left I exhaled, sat for a few minutes, and then began the quiet work of getting everything back to normal.