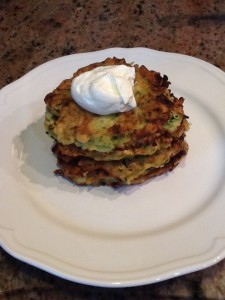 I'm writing this Sunday night and dinner tonight was a failure because I was too tired to get it right and my daughter was too tired to care about it. I was away all week training for my new job and spent about eight hours each day standing in a tiny kitchen learning to assemble food at breakneck speed. Rachel had a tough week too that culminated for her with a lousy showing in her crew event that took up most of her Sunday.
When you're skilled at something, let's say cooking, or rowing, having things go wrong or turn out badly is extra frustrating. Sure I've had my share of disasters, but this was a dinner I've made many times. A fallback, easy-peasy meal I throw together when we want a veggie dinner; zucchini pancakes that we have with tomato jam and sour cream. A favorite meal comforting and reasonably healthy.
I'd like to tell you what went wrong, but I'd be guessing. It's not that they weren't edible. they just were off. They took forever to cook, they fell apart when I tried to flip them, and though they were cooked through, they were still mushy inside. See that lovely picture to the left? That's not what tonight's version looked like. You don't want to see those. The thing is when you're tired and it's Sunday night you want a yummy, comforting dinner that will ease you from weekend to Monday with little mess or stress. As I write this the mess still awaits me, including the first two pancakes that are too disintegrated to do anything with but toss.
My daughter has dragged her not so well fed self upstairs to tackle a mountain of homework. She is even more tired than I am, and when I am finished writing this she'll still be working. Like all of us, when she's tired things seem worse than they are. She is upset about a few things, and I can't help her. Just like I can usually whip up a great meal, I can usually comfort her, but not tonight. Her current problems can't be fixed with a hug and a sympathetic ear.
On balance, I remind myself I have many more culinary successes than failures but still… I like having that one thing I can count on to do well whether or not I'm tired, sick or sad. I have more parental successes than failures too, but tonight I'm not doing well at that either. I'm also struggling to get this written. All told not much of a night. But, as Scarlet says; tomorrow is another day, and maybe if I get some sleep I won't be too tired to do the things I know how to do.