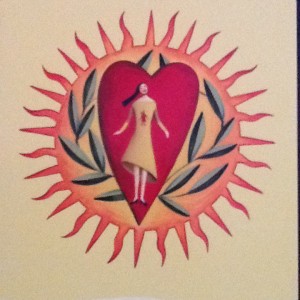 I had two moms, though not in the Heather Has Two Mommies kind of way, mine were serial. I know there are plenty of people with two moms, for a variety of reasons, in a variety of families, and with a variety of stories. This is the Mothers' Day story of my two moms.
I'm never quite sure how to refer to my first mom, Ruthanne. Birth mother seems clinical and implies my birth was the only part of my life she was present for. When I was still fairly young I'd refer to her as my real mom, but that doesn't sound right either. She was no more or less real than my second mom, Julie. First mom sounds strange too, but that could be the most accurate appellation. I often just refer to her by her name.
Ruthanne was my mother for just seven years, and I don't remember doing the things little kids do for their moms for Mother's Day. I probably made her artwork involving macaroni and/or beads glued to construction paper. I don't recall celebrating her birthdays, or much of anything that isn't directly related to me; the star of my life for the years she was in it.
Julie never became my mom legally, though she effectually did on May 25th, 1967 when she and my father married. We had a conversation shortly before the wedding when I asked her what I should call her. I had been calling her Julie from the time we'd met, and she said it was up to me. I called her Mom, and eventually Mommy. My siblings and I continued to call her that long past the age when most people transition to Mom.
When I picture my mom, or someone asks me about her it is Julie I think of. If a website prompts me to enter my mother's maiden name it is Julie's I use. For better and worse, it was Julie who raised me. Julie was the one who inherited the mess I was at age nine, motherless and at the mercy of my bitter, rigid and puritanical maternal grandmother. She was imperfect and brilliant, and without her, I'm not sure what would have become of me. I imagine myself sitting in a corner hugging my knees to my chest and rocking back and forth. perhaps I exaggerate, but mercifully I'll never know.
My memories of Ruthanne are sketchy and faded. I remember her making me my favorite Chickarina soup when I was four and sitting on her bed while she sat nearby in a rocking chair holding my two-month-old brother as we watched John F. Kennedy's funeral. Once after I fell on my way home from school and scraped up my knee and elbow she scooped me up and comforted me in her lap in the big chair in our sun room. I remember eating take-out Chinese food in her bedroom the last night she was alive.
Julie died in 2010, a few days after Thanksgiving. I spent the last week of her life with her. She'd been sick for ten years, and that September decided to stop treatment for her cancer and work with Hospice. In her final months, she was both exhausted and relieved to be free from the increasingly difficult treatments. By then in addition to my mother, I'd lost all my grandparents, and my father, but she was the first one who didn't die suddenly.
I have no doubt that much of who I am is a result of my first seven years with Ruthanne, but there is hardly anyone around who knew her. The few people I've talked to about her speak of her with the reverence and adoration saved for the deceased. They say I'm like her, but can't really say in what way. I don't trust their rosy recollections of a near-perfect individual, I want to know about her flaws and her demons, the real-ness of her, but I never will. After her death, my father never spoke of her.
Julie was real to me. I saw her fully, as only an adult can see their parent. I saw her charm and genius as well as her selfishness and meanness. She unfailingly knew the best solution to every problem and she often made me feel like crap. I loved her and she drove me crazy; she was my mom.
My two moms shaped me, each in her own way. On Mother's Day, I honor and miss them both in very different ways. I'm sure there is some of each of them in the kind of mother I am. I am nearly sixty, I have made choices and decisions that impacted who I am now, long after I stopped relying on them to show me the way. I'm sure that beneath the surface, in ways I can't discern both of them continue to be present in me.