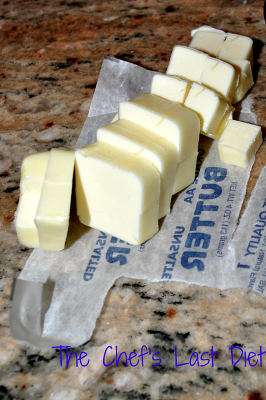 The other day I had a roll with salted butter, and it was astonishing. The butter was one of those foil-wrapped butter pats, and it was right out of the fridge cold. At home, I use only unsalted butter and I'm one of those renegades who leaves my butter in a butter dish on the counter, so it's always soft.
I warmed the butter up a bit in my hands just enough to make it spreadable, put it on my nice, crusty roll, and took a bite. I hadn't realized it was salted butter. As it hit my tongue the mixture of the fat and salt took me by surprise and I was transported back to my childhood.
When my parents married there were many adjustments we all had to make. From two single-parent homes each with two kids we were suddenly a blended family of six. I was no longer the older child or the only girl, I immediately got sandwiched between my two new sisters; one a grade ahead of me, one a grade behind. I was happy to trade my grandmother for my new sister, Connie as a roommate, and glad to bid my grandmother goodbye when she moved out.
When I was already an adult I came across the book Funny Sauce by Delia Ephron; a hilarious and honest look at the realities of blending families and family culture; especially how and what we eat. Food, as much as anything defines a family, and joining two families necessarily creates a new culture for both.
I hardly recall dinners with my father, mother, and brother, and dinners once my grandmother replaced my mother at the table became more formal and the food more sophisticated. Manners were very important. When I was eight my grandmother handed me a copy of the 1961 edition of Tiffany's Table Manner for Teenagers with the admonition I was to henceforth follow their guidelines. I remember the challenge of trying to sit still through the meal more than the fare.
The arrival of Julie and her daughters was stressful for all of us and came with so many changes including how and what we ate. Dinnertime was more relaxed, and noisy with twice the people at the table, and what we ate changed in all kinds of ways. Julie determined what we ate, so my sisters were accustomed to the food that now graced the table. I was not.
Every night there was a huge green salad, vegetables were fresh, not frozen and margarine was replaced with butter; salted butter. I remember the stainless steel butter dish and the cold butter it held. In the late 1960s almost everyone used margarine, it was heavily marketed as the healthier choice, and my vain and weight conscious grandmother demanded it. Along with fresh veggies and salad, Julie brought the gift of real butter.
As I sat enjoying my roll with butter and a moment of time travel I thought about my insistence on both unsalted and soft, room temperature butter. Is my stubbornness about this folly? What if I kept two kinds of butter in my freezer; unsalted for cooking and salted for the pleasure of it. I could smear it on crusty rolls, warm scones, mashed potatoes and steamed green beans? If I did I'm sure the earth would continue spinning.
I don't know when I made the change from sweet to salted butter, but I know I've been convinced of its superiority for some time. Obviously, I've been as ass about the whole thing, and now I'm a little ashamed. I apologize to everyone I annoyed with my supercilious attitude. I repent, I succumb, I buy salted butter. But I'm still going to leave it on the counter.