This is week two of recipes starting with the letter C. The recipe for cheese sticks sounded vague. I think if I had followed the directions as written they wouldn't have come out right. They needed more rolling and chilling to incorporate the butter into the dough. I am a fan of southern cheese straws, but that's not what these cheese sticks are; they are puff pastry, airy and cheesy and perfect for cocktail hour. We devoured them.
Once I'd done the final roll out of the pastry I cut it in half. The first half, per the recipe I placed on the pan and let them puff. With batch two I twisted them and got a prettier and longer stick. I've made these before with store-bought puff pastry, using egg wash and grated Parmesan cheese. This recipe had me incorporate the cheese (cheddar) into the dough, as well as a small amount of paprika which I assume was for color, but had little effect. I also used white cheddar rather than yellow (the recipe didn't specify).
If you've never made puff pastry there are some things that are critical; the butter needs to be COLD; you need to keep chilling the dough, and the oven needs to be HOT. Other than that it's easy, and not nearly as time-consuming as you might expect. Are these worth the effort of making them from scratch rather than buying puff pastry dough? I'd say absolutely; store-bought all-butter puff pastry will cost you upwards of $10.00 this recipe calls for a bit less than 1/2 lb of butter, which I stock up on and freeze whenever it's on sale for around $2.99/lb, but even at $4.99/lb it's worth it. I will definitely make these again.
Cheddar Cheese Twists

Print recipe
Ingredients
2 cups flour (plus extra for rolling pastry)
3/4 teaspoons salt
1/2 teaspoon paprika (sweet, smoked or spicy, your preference)
1 1/2 stick unsalted butter (cold)
6oz sharp cheddar (shredded)
1/3 cup ice water
Note
Makes about 4 dozen sticks
Directions
Step 1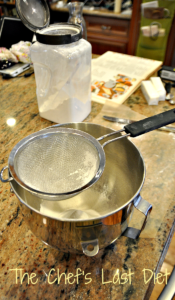 Sift dry ingredients together
Step 2


In a food processor or stand mixer cut 8 TBL of butter into small cubes and cut into the flour. Add shredded cheese. Slowly add water until ingredients form a ball.
Step 3


On a well-floured board or counter, roll dough into an 11" square, dot with 2 tablespoons of butter, cut into small pieces.
Fold four corners of dough into the center.
Fold dough in half vertically, then horizontally.
Step 4


Keeping counterwell-floured roll dough into another 11" square, and fold again. Wrap in wax paper or plastic and chill for 30 minutes
Step 5
Remove dough from refrigerator, roll into an 11" square, and dot with remaining 2 TBL of (cold) butter, and repeat step 4.
Heat oven to 400F (375 for convection). Remove dough from refrigerator and roll into a rectangle 1/4" thick. Cut into 1/2" X 4" strips.
Step 6


For flat sticks lay take strips and lay them on an ungreased cookie sheet. Bake for 12-14 minutes, until golden brown.
Step 7


For cheese twists, hold strips and twist each end in the opposite direction to form a twist.
Lay twists on ungreased cookie sheet and bake for 12-14 minutes, until golden brown.