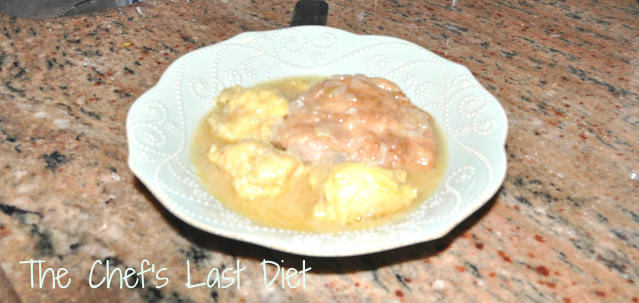 Dumplings are one of those foods that appear across all cultures and the reason is that everyone loves dumplings. Dumplings come savory and sweet, stuffed and not. Your family might call them gnocchi, wontons, matzo balls, kreplach, kartoffelknoedel, and pierogi or one of hundred of other sobriquets. Though I grew up slurping Campbell's chicken and dumpling soup, I was an adult before I first encountered that iconic American dish, chicken, and dumplings. And I have never made it.
As I work my way through my Woman's Day Encyclopedia of Cookery this week finds me at D. The C-section (forgive me) is huge, but D in comparison is a scant 60 pages. Volume 4, includes part of C, D, E, and part of F, while C took up most of Volume 2, all of three and part of four. Some of the D offerings were Danish, Dutch and Dessert recipes, as well as assorted essays and advice on diets which I skipped.
My first experience with this dish was in Jackson Mississippi, and the dumplings were rolled flat and cut into small rectangles, which is also the style of the Pennsylvania Dutch dish. Many of my go-to food authorities make a scooped, roundish dumpling which I prefer, and which is what the Woman's Day recipe instructs too. Full disclosure I cut up the single onion I had and didn't have any left to add to the dumpling batter.
The heat of July is hardly chicken and dumpling weather, but this recipe is quite wonderful, and when you make it you'll thank me.
Chicken and Dumplings

Print recipe
Ingredients
4 chicken thighs (or small chicken cut into quarters)
1 1/2 cup flour (1 cup reserved for dimpling batter)
2 teaspoons kosher salt
fresh ground black pepper
enough oil to cover the bottom of a heavy bottomed pan
3 cups chicken stock
1 Medium onion (chopped into 1/4)
2 bay leaves
2 thick slices lemon
1 teaspoon baking powder
1/4 teaspoon table salt
2 Large egg yolks
1/3 cup milk
1/4 teaspoon ground sage
1/2 teaspoon dried dill
Directions
Step 1

Mix1/2 cup flour with kosher salt and pepper
Dredge chicken in flour
Heat oil in pan until shimmering
Step 2


Brown chicken on both sides, skin side first
Remove chicken to a plate
Step 3


Toss onions with any flour remaining from dredging the chicken
Saute onions until soft, but do not let them brown
Step 4


Add stock, bay leaf, and lemons to pan, and stir well
Add chicken back into pan, skin side up
Cover and cook over low heat for 35 minutes
Batter
Step 5


Sift remaining 1 cup of flour with baking powder and table salt
Mix in dried herbs

Step 6


Mix egg yolks and milk together and add to dry mixture
Stir until just combined, but do not overmix
Step 7


Remove lid from chicken and remove bay leaves and lemon slices.
Using two teaspoons drop 1 teaspoon of batter at a time into liquid. (About 12)
Cover pot and simmer another 15 minutes.