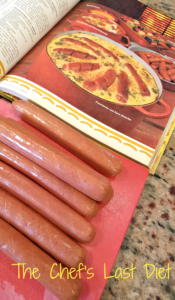 When I got to the F section of the Woman's Day Encyclopedia of Cookery I chose to make something that sounded fun but was (pun intended) frankly disastrous. In this section, you will find several pages devoted to frankfurters. There was also a section on Finnish food which involved a lot of finnan haddie, and an oddly skimpy section for French food, but I thought it might be time for a break from serious fare.
In the frankfurter section, I found recipes for such bizarre items as a frankfurter-avocado dip, frankfurter egg-fu-young, and frankfurter, prune and onion kabobs, none of which tempted me. There were recipes for appetizers, soups, main dishes, snacks, and casseroles all starring frankfurters. I thought this frankfurter and corn casserole sounded appropriately retro without being gross. If you're looking for another way to use leftover summer corn, besides corn fritters, here are my favorites.
When I was a kid (in the era of these cookbook volumes) hot dogs (as we called them) were often found in our fridge. Being a New Yorker I was raised on kosher dogs such as Nathans, Sabrett and Hebrew National. I'm a fan of the kind of hot dogs you can now only get at a butcher, or Papaya King; the skin-on dog with a decided snap when you bite them. If you've never had a skin-on hot dog, you are truly missing out on hot dog greatness!
Which brings us back to my corn-frankfurter casserole. I am a firm believer in starting with good ingredients, and so I did. I got fresh, local corn, and Hebrew National kosher hot dogs. Though I'll offer some suggestions on improving this recipe unless you're desperate for a new recipe using hot dogs I'd skip this one. I will not be making it again in its current iteration. That said, the corn pudding part was tasty, it just wasn't enhanced by the addition of hot dogs.
I can't imagine why the hot dogs are added on top; they don't make the casserole look attractive, and the flavors might have had a chance to marry had the hot dogs been sliced, mixed into the custard and baked with it. I'd also recommend the addition of eight ounces of grated cheddar cheese to amp up the flavor. Nevertheless, I present to you my only slightly modified version of this frankly lackluster dish.
Frankfurter and Corn Casserole

Print recipe
Ingredients
5 tablespoons butter (3 to make a roux, 2 reserved for topping)
3 tablespoons flour
1 teaspoon kosher salt
black pepper (several grinds)
12oz milk (heated but not boiling)
2- 2 1/2 cups corn (stripped from 2 ears of corn)
3 Large eggs (lightly beated)
1/2 cup breadcrumbs
chopped parsley
Directions
Step 1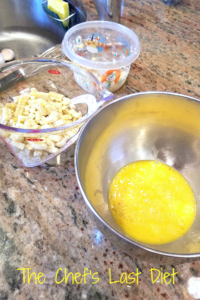 Preheat oven to 350F
Butter a 1 1/2 qt. casserole
Melt 3 TBL of butter in a sauce pan
Stir in flour and continue stirring for 2-3 minutes
Stir in milk, salt, and pepper

Step 2
Continue cooking and stirring until sauce is smooth and has thickened enough to coat the back of a spoon.
Step 3


Remove sauce from heat.
Mix corn and eggs, and pour sauce over them.
Combine well, and pour mixture into buttered casserole
Step 4
Top with breadcrumbs, and dot with remaining butter
Cook for 30 minutes
Step 5


Remove casserole from oven and top with scored frankfurters.
Return casserole to oven and bake an additional 15 minutes.
Garnish with chopped parsley.