I just had to make this French lentil and kale salad, even though winter is hanging on, and it's not quite salad weather. I have a hard time eating salads when the weather is cold, but once it warms up, I want them again. This interminable winter has me craving both warm weather and things like salads and iced tea. A spring nor'easter is predicted for this week, which is making me sad, I was very optimistic that I could put my down coat away for the year. In spite of the threat of more snow, we're making salad. I am taking a new twist on an old favorite; lentil salad is a particular favorite of mine, and this one has a fresh springy taste thanks to a fresh citrus- parsley dressing, and blanched kale
French lentils are very tiny and bright green, they look like turtle shells, and though they don't keep their bright color, they stay firm when you cook them, unlike brown lentils which soften and turn creamy. Those are great for soup, while the French lentils are perfect for salad. You can make an endless variety of lentil salads, if you want to make a different one, please just use this as a template, and add your favorite salad ingredients. No matter what you add, I think lentils and citrus are one of those perfect couples and belong together(I always add lemon juice to my lentil soup) so please give this dressing a try.
I added feta cheese, but you could omit it and make a vegan salad (use vegetable stock or water to cook the lentils). A good substitute for the cheese might be a seasoned, baked, tofu. This would be a great make ahead dish for a party or barbecue, should summer ever arrive… The dressing would be good on all kinds of things, including the pollo a la brasa from last week, or even a baked potato. For me this recipe is a real keeper! I hope you love it as much as I do, if you make it please let me know how you like it.
French Lentil and Kale Salad

Print recipe
Ingredients
8oz French green lentils
1/2 Spanish onion (cut in half)
2 stalks celery (with leaves attached, cut in half)
1 carrot (washed but not peeled, cut in half)
1 bay leaf
3 cloves garlic (smashed)
2 cups chicken stock
3/4 cups red onion (diced fine)
1 cup halved grape tomatoes (measure after cutting in half)
1 bunch Lacinato kale
1 bunch flat leaf parsley (leaves only)
4oz feta cheese (crumbles or diced)
1/4 cup lemon juice (from 2 lemons)
1/3 cup olive oil
Directions
lentils
Step 1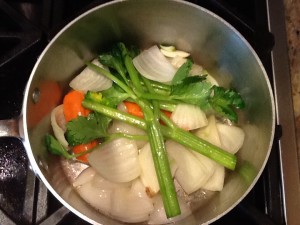 Put Spanish onion, celery, carrot, bay leaf, 2 of the garlic cloves, lentils and stock into pot and bring to a boil, reduce heat, and simmer for 40 minutes,
when lentils are done, remove all vegetables and bay leaf, drain lentils, and set aside to cool
Salad
Step 2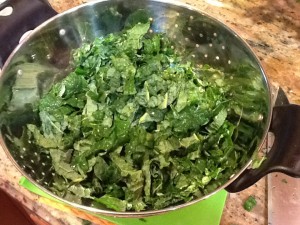 Bring a medium sized pot of salted water to a boil
Remove stems from kale, rubs leaves together to break up cell wall structure (some people call this massaging the kale)
Stack leaves on top of each other in batches, and cut into julienne
salad
Step 3
Prepare an ice bath,
Drop kale into boiling water, and immediately using a spider, remove it and put it into the ice bath
Step 4


Drain kale, and dry in salad spinner
Add kale, tomatoes, cheese, and onion to lentils, in a large bowl
Step 5


In a food processor or blender process lemon juice, parsley, remaining clove of garlic,, and while processor is running, add oil in a steady stream until the entire mixture is well blended
Step 6


Pour dressing over ingredients in bowl, toss well, and taste for seasoning
 Happy Birthday to my sweet, and amazing daughter Rachel!!