Many years ago I was catering a party and one of the appetizers I had planned to make was samosas. I was following a recipe and ended up with a lot of extra filling, and not much time, so I defrosted some won ton wrappers I had and used those instead of the dough I had made, and was struggling with.  At the party the won ton wrapped samosas were the hit of the evening! The recipe in this post uses a different dough, than the one I had trouble with and is very easy to use, but feel free to use won ton wrappers.  It will be quicker though not authentic.
For those of you not familiar with them, samosas are dumplings that are associated with India, but similar dumplings are found the world over. Pretty much every culture has some kind of dough pocket filled with something filling; meat, potatoes, and/or vegetables, and fried so they were handy to eat today and tomorrow. Samosas can be filled with any number of things including curried beef, cauliflower and potato. The most common samosa I have encountered is the one here filled with a potato and pea mixture.
My samosas are a amalgam of a number of recipes I found, none of which were correct about the time involved in making them. I may not be the most efficient cook, but these took me a good two hours, compared to the one hour Emeril claimed it would take. I also (again) ended up with a good amount of extra filling, so I have adjusted the recipe and I believe you'll have the correct amount, though there are many variables when you make something like this. This is a better thing to make on a rainy Saturday than on a busy weekday, but they are worth the time they take, and are a good project to do with kids. Though they are time consuming, once you get the hang of assembling them, it's not difficult.
For about a thousand photos showing every single moment of assembly I recommend this site, which is fascinating. It took some work, but I did find the recipe, which is different from mine, and in fact, every recipe I found was different from the others, which makes me think you can make them any way you like, spicy or not, with peas or edamame, sweet potatoes or any filling that strikes your fancy, you get the picture. I will say that not one recipe mentions using won ton wrappers, so I will claim that. You can bake them, but if you want the crunchy, bubbly shell you must fry them.  They freeze well, and can be reheated in the oven. You can also make them larger, the size of a hand pie, and then things will go much more quickly!
Samosas are a great party food, you eat them with your hands, but your fingers won't get messy, and who doesn't like party food you can make ahead? When I was done making mine I called my friend Michele (who lives around the corner) to come and share them. I was excited to introduce her to something new, and I think she liked them. I made my samosas mild,but give you optional ingredients to spice them up a bit. As always, please let me know if you make them, and how they turn out.
Potato and Pea Samosas

Print recipe
Ingredients
Filling
3 Small potatoes (about 1 lb.)
1 cup frozen peas
1/2 Large onion (diced fine)
1/2 bunch cilantro (chopped)
1.5 teaspoons salt
1 teaspoon ground coriander
1 teaspoon garam masala
1 teaspoon ground cumin
2 tablespoons fresh lemon juice
1 tablespoon grated ginger
1 green chili (seeded and diced fine (Optional))
1 tablespoon ghee (clarified butter)
Dough
1.5 cups all purpose flour
4 tablespoons ghee
1/2 teaspoon salt
Directions
Filling
Step 1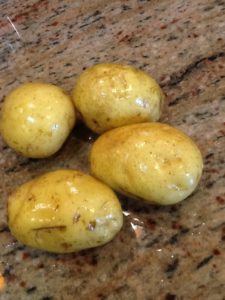 Boil potatoes until cooked through, and let cool, to speed up cooling cut potatoes in half
When cool cut into fine dice, about 1/4"
Step 2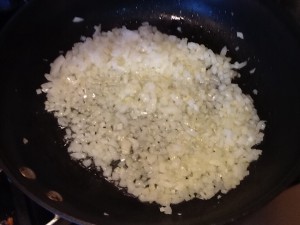 Saute onions in ghee until just starting to brown, add spices and chili (if using) and cook another two minutes
Add peas and potatoes and three tablespoons of water, cover and let cook for 3-4 minutes
filling
Step 3


Add cilantro and lemon juice to pan, cook for another minute
Taste for seasoning, and set aside to cool
Doough
Step 4


Sift flour and salt together into a wide bowl
Add ghee
Dough
Step 5


Incorporate ghee into flour mixture by rubbing the ghee into the flour, continue doing this until the flour looks like corn meal
Step 6
Add warm water one tablespoon at a time to mixture until a dough starts to form, it will take about 5-6 tablespoons
Step 7
Once dough had formed a ball, turn it onto a counter and knead it for fifteen minutes (it will really take that long) until dough get smooth and elastic, you won't need any flour on the counter or your hands
Step 8
Wrap dough and let rest for thirty minutes, dough will be very soft and elastic
Step 9


Once the dough has rested, knead it once more for 1 more minute, then divide it into 12 balls
The best way to do this is to divide it in half, then divide each half into thirds (I am telling you because I managed to screw this up)
Assembly
Step 10


Set up your work station with flour to dust your counter, a bowl of water with a pastry brush, a rolling pin, and a tray to put the finished dumplings on, you'll also need room for the bowl of filling
Step 11
Roll each ball of dough into a circle about 6" in diameter (this gets easier as you go), and cut the circle in half,
Pick up one half, and brush one half of the edge facing up with water
Form a cone with the dough, pressing the edges together
Put a heaping teaspoon of filling into the cone, and brush the top, back edge with water, fold that over the front top edge and press closed
Lay the dumpling on a pan and cover with a clean dishtowel
Repeat until you have filled all 24 cones
Step 12


Heat 1" of oil in a large frying pan over medium high heat
Oil is ready when you put the tip of a wood chopstick, or skewer into the oil,and it bubbles around the stick
Step 13
Lay 1 layer of samosas in the oil, do not overcrowd them
Once samosas are in the oil reduce heat to medium and fry for 2-3 minutes per side, or until they are golden brown
After each batch, turn heat up before putting new samosa into pan, and turn heat down after each batch is in the oil
This will ensure that the dumplings are hot all the way through, without burning the skin
Step 14
Drain on paper towels

Step 15
Serve with a sweet and/or spicy chutney