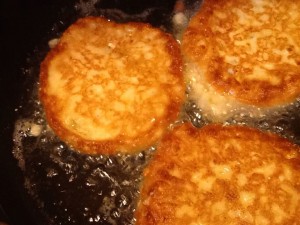 Keeping my promise, here is another recipe using leftover corn, and this is another favorite—corn fritters. If you search online you will find a lot of different interpretations of corn fritters. They range from a batter dropped into a deep fryer and cooked like a zeppole, to throwing some corn into your pancake batter and cooking them on a griddle. Some use buttermilk, some cornmeal, some just flour. What I wanted was a crispy on the outside, full of corn pancake.
Corn, or any type of fritter are something that you can serve at any meal, they make a fun breakfast with maple syrup and some sausage or bacon, or they can hit a more savory note with sour cream and topped with salsa, or tomato jam. I always lean towards the savory, so that is what I wanted when I made them for dinner the other night. Though I made these with fresh corn, as frozen vegetables go, frozen corn is very good. There are many varieties of frozen corn available, I really love shoepeg corn, which though widely available in the south, is harder to come by in the northeast, and I have no idea its availability elsewhere. You can also buy roasted frozen corn, from Trader Joe's and Whole Foods Market, which adds another dimension of flavor. I haven't tried it yet, but I may try making it with smoked corn.
Fritters have been around since early Rome, and consisted of batters mixed with fruits, nuts, seafood, or meats. In France the cook who runs the fryer is call the the friturier. There are fritters in most cuisines, from fish and chips to tempura. Most of these are traditionally deep fried but frying in oil but fritters can be pan or deep fried. Both methods are considered dry cooking methods, as the hot oil creates a crust on the outside that keeps the oil from penetrating the item.
The difference between pan frying and deep frying, is obviously the depth of the oil, but pan frying is a bit trickier. You want the item you're frying half submerged in the oil, any more and the middle of food will get overcooked as it will be cooked twice, not enough fat and you'll have a band that is undercooked, and undercooked batter is pretty gross. This is also why it's important to keep the things you're frying the same thickness.
So now to our simple recipe which you can make as I did as a pan-fried pancake, or using a smaller scoop, deep fry.
Corn Fritters

Print recipe
Ingredients
2 cups corn (1 ear will generally yield one cup)
1/2 cup flour
1/2 cup cornmeal
1 teaspoon baking powder
2 teaspoons kosher salt (if using table salt use 1 tsp)
1 Large egg (beaten)
1 cup milk
1 tablespoon butter (melted)
oil for frying (Use neutral oil like safflower, or canola)
1 tablespoon sugar (optional, if making savory fritters omit this)
Directions
Step 1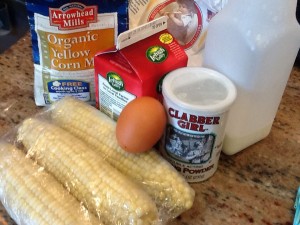 Im one bowl mix dry ingredients together with a wisk
Step 2


Mix egg, milk, melted butter together, and after making a well in the center of the dry ingredients, pour wet ingredients in, and mix just until combined
Stir in corn
Do not overmix
Step 3


Heat about 1/2" of oil in a wide frying pan
When oil is shimmering test it with a chopstick; when you put the tip of the chopstick into the oil it should bubble up around the stick, if that happens the oil is ready
Step 4


Using a 1/3 cup measure as a scoop, drop the batter into the oil, spreading just a bit so the oil comes halfway up the fritter
Reduce heat to medium
Step 5


Fry until,edges are starting to brown, then gently flip each fritter, I use my chopstick to help me turn them with a spatula, so they don't splash into the oil
Continue frying the second side until that is browned as well
They should be done, but you can test them with a toothpick like you would a cake, if it come out clean the fritter is done
Step 6
Drain fritters on paper towels.
If you are making this for a crowd keep them warm on a oven safe plate in a 200 degree oven, loosely covered with a dishtowel
Step 7
Serve with topping of your choice, sour cream and snipped chives, maple syrup, peach or blueberry jam etc.