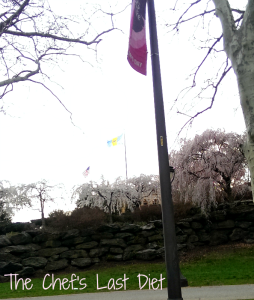 Spring officially started over a month ago, but it has been a slow, reluctant one this year. I haven't felt the urge to switch out my clothes for the boxes in the attic, and I am still sleeping with an extra blanket on my bed. The cherry blossoms are blooming, the forsythia and crocuses have appeared, but even as I sit here writing this I'm clutching a hot cup of tea to warm my chilly hands. This is making me grumpy, but is also making me want soup rather than salad.
I like to say I eat seasonally, but it is more accurate to say I eat temperately (and I don't mean with temperance). When it is cold I want hot food that will warm me as I cook it, when it sits in front of me and finally when it gets to my belly. Conversely when it is hot I do whatever I can to avoid making myself or my house hotter. It is April and I should be transitioning to salads and iced tea, but I can't. I'm just too cold.
There is a pretty redbud tree in front of my house, and when it finally gets around to blooming it will be resplendent for a few days, but like me, my tree is holding out for sunnier days. To keep warm I am making some carrot and sunchoke soup. This is one of those soups that is good hot or cold, so is perfect for this time of year. I hope that by this weekend I will enjoy some cold. I make a carrot soup that is similar, but when I was at the market and saw the sunchokes I thought they would be a perfect addition.
Carrot and Sunchoke Soup

Print recipe
| | |
| --- | --- |
| Serves | 4-6 |
| Prep time | 1 hour, 30 minutes |
| Cook time | 1 hour |
| Total time | 2 hours, 30 minutes |
| Meal type | Soup |
Ingredients
1 1/2lb carrots (peeled and rough chopped)
1 Large Spanish onion (rough chopped)
1lb sunchokes (scrubbed (also called Jerusalem artichokes) quartered)
8 sage leaves (snipped with a scissors)
1 tablespoon ghee (or other neutral oil)
1 cup cream (optional)
1 quart beef stock
1-2 teaspoon kosher salt
Directions
Step 1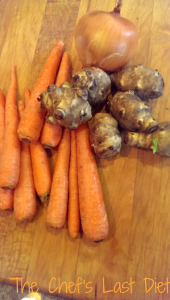 Melt butter over low heat, and add onions
Stir and let onions soften, about 5 minutes
Step 2


Add carrots, sunchokes and sage, stir well and add stock
Cover, lower heat and let simmer for 45 minutes to one hour, until all vegetables are tender
Step 3
Taste broth for seasoning, and add salt
Puree with immersion blender or in a blender
If using it add cream or use it to garnish the soup by drizzling it and swirling with a knife tip

Serve either hot or chilled
Garnish with a small sage leaf