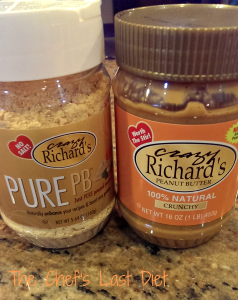 Last Fall when I attended Natural Foods Expo East I got a press bag filled with fun stuff, including Pure PB from Crazy Richard's and I'll confess it got forgotten in the back of my pantry, until I was sent a jar of Crazy Richard's crunchy peanut butter to cook with and blog about. Now I am going peanuts with both these jars of goodness! I admit I've had Crazy Richard's peanut butter before, it's great stuff! I've been trying hard not to eat the peanut butter from the jar while deciding what to do with it.
Because we love an excuse to have breakfast for dinner, and last night we were tight for time, it seemed like the perfect night to have chocolate chip pancakes with sweet and salty, crunchy peanut sauce. This was a pretty rich meal, and not one I recommend for first thing in the morning, unless you're planning to get back into bed and sleep a few more hours. The pancakes were you standard pancakes and I like to use mini semi-sweet chocolate chips that I toss in the pancakes after putting them on the griddle.
The peanut sauce was truly decadent! My daughter loved it so much I had to take it away from her so we'd have enough for our pancakes. I think she was planning to make a meal of just the sauce! (I will allow that is was late and she was very hungry.)There was some discussion about whether the sauce would have been better with smooth peanut butter, but we liked the crunch. We had it warm, but I tasted it cold, and it's still good.
I tried adding some of the Pure PB to the pancake batter, and I don't know if I didn't add enough, but we didn't get a lot of peanut flavor. No worries the sauce packed a super peanut punch! Of course the chocolate chip pancakes were a perfect match for the sauce, but it would be great on ice cream, French toast, rice cakes, chocolate, a spoon, any and everything salty, like pretzels. It tasted a bit like a Snickers bar elevated to a new level. Yum!
Salty-sweet-crunchy Peanut Sauce

Print recipe
Ingredients
1 cup Crazy Richard's Crunchy peanut butter
1/2 cup maple syrup
1/2 cup warm water
1/2 cup cream
1/2 teaspoon Kosher salt
Directions
Step 1
Combine all ingredients in a heavy saucepan, and stir over medium-low heat until sauce is creamy and has a thick saucy consistency.
Add more warm water to thin sauce to desired consistency.
Serve hot or warm on any and everything.