Since the weather has turned ridiculously hot warm I have been making smoothies for breakfast, but when I wake up really hungry on a Saturday or Sunday I have but one thought weekend breakfast!!! Weekend breakfast can be almost anything from corn clafouti, to blueberry pancakes to venturing out to one of my favorite breakfast spots. Today I woke thinking scones. And not some sweet, demure, traditional currant scones. Nope; I wanted something with texture and heft.
I've been thinking about the scone I had a month or so ago at Rye Bread here in Philly. They were craggy and buttery, chock full of bacon and scallions and cheese. The dream scone as far as I'm concerned. I didn't feel like getting properly dressed and Rye Bread is on the other side of the city. But I can cook anything, and as I lay in bed my mind was filled with visions of a corn-scallion-cheddar-bacon scone. That was enough to launch me out of bed and into my stay at home and get shit done clothes.
Rooting around in my freezer I had limited success. I almost always have a bag of corn in there, but today the only veggies I found were three bags of edemame, and some frozen peas. I did have bacon and pecans, wow I hadn't thought about pecans, and in my excitement I forgot the scallions (which I actually do have). I knew I had cheddar—one of my daughter's must-haves, so a fridge staple. I pulled out Mark Bittman's How to Cook Everything, which is my go-to (if you buy it from this link I think I make about $.20) and got to work changing the recipe because that's what I do.
These scones have everything I wanted, and I'd stack them against the scones at Rye Bread any day! They are quick enough to make for breakfast if you're willing to get up just a little early. As I said I like craggy scones, but feel free to flour a board and roll them and cut them into rounds, squares or triangles. If you wanted to make these same scones sweet instead of savory add 1-2 tablespoons of sugar to the dry ingredients, and top them with some extra sugar so they get a bit of crunch.
What is your favorite add-in for scones? Do you like them sweet or savory?
Bacon, Cheddar, Pecan Scones

Print recipe
| | |
| --- | --- |
| Serves | 7-8 |
| Prep time | 30 minutes |
| Cook time | 20 minutes |
| Total time | 50 minutes |
| Meal type | Breakfast |
| Misc | Freezable |
Ingredients
2 cups flour
2 teaspoons kosher salt
4 teaspoons baking powder
5 tablespoons cold butter (cut into small cubes)
2 eggs
3/4 cups sour cream (or heavy cream)
1 cup pecans (toasted and chopped)
1/2 cup cheddar (grated, about 4 ounces)
4 thick slices bacon ((optional) Well cooked and crumbled)
3 tablespoons water (as needed)
Note
These scones can be made and scooped then frozen unbaked, let them freeze on a baking sheet, then wrap well to prevent freezer burn. To bake, they don't need to be thawed, but may take a few minutes longer to bake; check after 18 minutes.
Directions
Step 1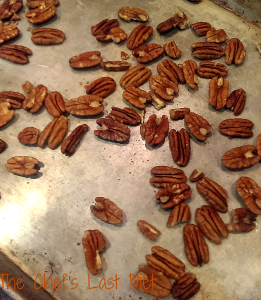 Preheat oven to 425F (400 for convection)
While oven is heating put pecans on a sheet tray and toast until fragrant, about 5-7 minutes
Put flour, baking powder, salt into bowl of a food processor and pulse a few times to combine
Step 2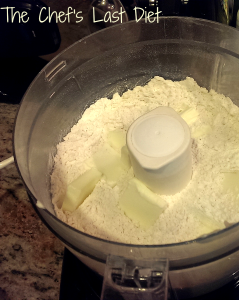 Add butter to dry ingredients, and pulse to combine butter (mixture should look like sand)
Step 3


In a large bowl whisk sour cream and eggs until well combined
Add flour mixture, chopped pecan, cheese and bacon (if using)
Mix just until combined, (add water if needed) you can use a wooden spoon, I prefer my hands
Mixture will be sticky
Step 4


Scoop with a 1/3 cup scoop onto a parchment lined pan
Flatten a bit
Bake 18-20 minutes, testing with a toothpick to see if they are done