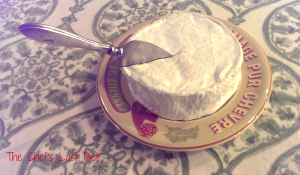 Unless you limit yourself to sliced cheese and never go to parties, chances are you've been confronted with cheese rinds. I often find that guests at parties scoop the cheese out leaving the sad traces of the rind on the platter. Although most cheese rinds are edible, many people are intimidated or afraid to ask. Some people find them icky and aren't willing to risk eating them. Are you a rind eater or a scooper?
Last week I had a chance to talk about cheese rinds with artisan cheese maker Stefanie Angstadt from Valley Milkhouse. I first met Stefanie at the Philly Farm and Food Fest, and then again at the Eat Retreat Philly pop up event. Her cheeses are wonderful, made from the milk of 100% grass fed cows. She gave me one of her Thistle Brie style cheeses to take home, and my daughter (the ultimate cheese head) and I fell in love with it. It has a bloomy rind, and when we cut into it we found a thin, gooey, runny layer along the edges of the rind, and a buttery, creamy to chalky center which for me is everything I want in this type of cheese.
Before talking to her I read some pieces about her and watched a YouTube video of Stefanie forming cheese logs, and came across a comment asking why she wasn't wearing gloves, which I mentioned to her. It turned out to be the perfect opening for our conversation about cheese making, and rinds in particular. Cheese making requires an interesting balance of a sterile environment, with the introduction of the right type of bacteria to create the rind, and gives the cheese the desired flavor. She explained that when you introduce the bacteria to the cheese it begins reproducing rapidly, and forms a protective barrier. I also can't imagine being able to form cheese logs wearing gloves.
The Thistle cheese Stefanie gave me had a soft, creamy-white bloomy rind. There are three types of cheese rinds; bloomy, washed and natural (there are also wrapped cheeses but those wrappings such as wax, bark or burlap aren't edible). Each is formed in a different way, and Jeanne Carpenter gets into the details of each here. Bloomy is the main type of rind I talked about with Stefanie, and if you're a scooper, maybe I can convince you to try the rind the next time you encounter one.
Bloomy rinds are white to orange, soft, and sometimes a little fuzzy. They're formed by introducing a specific type of bacteria to the cheese's surface which forms a protective barrier within a few days. Stefanie explained to me how the rind begins to form in patches on the cheese and once it has begun to form it grows rapidly blanketing the cheese. This has to take place in a controlled environment. If it's too cold the mold won't grow, too warm and the cheese can spoil.
If the idea of mold is disturbing, what Stefanie says to that is "Germs are flavor in the world of cheese". Consider that it is a very specific bacterium, grown in an otherwise sterile environment. You don't want just any bacteria growing on your cheese, and if you want to get the full flavor of the cheese you should try it with the rind.
Stefanie also makes washed rind cheeses using hard cider or beer to wash the rinds. The alcohol kills the bad mold and creates a clean slate for the yeast to grow on the surface of the cheese. Washed rinds are harder than bloomy rinds, and some well know examples of these cheeses are the Spanish Manchego cheeses with their basket weave rinds in green, yellow and purple. And these are also edible.
As Stefanie told me, cheese is where art and science meet. So if you've been leery of tasting the rind, next time you see one, please give it a try. The cheese maker took a great deal of time and effort to make that particular rind, and it should enhance the flavor of the cheese inside. If you've never eaten the rind start with a white bloomy- rinded cheese such as Valley Milkhouse's Thistle, or brie type cheese like Fromage D'affinois. (And if you still aren't willing to eat the cheese rind, please keep in mind that proper etiquette suggests you take a wedge of cheese and leave the uneaten rind on your plate rather than the serving plate.)
Are you a rind eater?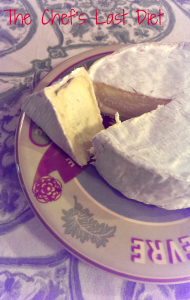 Thanks so much to Stefanie Angstadt of Valley Milkhouse for the amazing cheese, and for spending time talking to me about cheese. I'll be making a trip to Valley Milkhouse later this summer, so you'll be hearing more about Stefanie and her cheeses! In the meantime if you get a chance to eat some of her cheese, or some other handcrafted cheese, please do, and don't waste the rind!