Each night my daughter and I go through the typical family pre-dinner ritual when I ask what she wants for dinner, and she replies "You decide" followed these days by "but no soup; it's not soup weather!" I agree; who wants soup when you spend your day breathing something that feels more like soup than air? But I think tonight I'll win her over with some nice cool potato-zucchini soup, not too heavy with fresh dill.
With soup there are some pretty basic steps, you choose your aromatics, such as onions, celery, carrots, or in this case scallions, and sauté them in fat. Add to the hot pot any spices so they can toast a little in the hot fat, then any other ingredients including stock/broth (except fresh herbs), and any cream or milk products. Because this is a potato soup I chose to use a food mill rather than a blender, because those can make potatoes get gummy.
If like me, you came home tired from a wretchedly frustrating day, you're making cold soup for tonight's dinner and it's already after 7:00 and you're getting hungry, there's an easy way to chill this soup. After putting it through the food mill take just as much as you'll need, and put it into a metal bowl, put that metal bowl into another much larger soup pot or bowl filled with a fifty/fifty mix of ice and water, and stir the soup. It should chill in around ten or fifteen minutes. We were too hungry to exercise fifteen minutes of patience, so we ate ours cool, but not chilled, and I think it will be better tomorrow after a night in the fridge.
I am a huge fan of cold soups, though I confess I don't like fruit soups much. I think it's a sweetness issue. I can't make a distinction between fruit soups and sauces, and I prefer those with dessert. I like experimenting with traditionally hot soups to see which ones work chilled. Root vegetable soups are particularly good. And I love a simple gazpacho whipped up in the blender using canned tomato juice! Cold corn soup is lovely and you can make numerous variations.Perhaps I'll do some experimenting now that corn season is almost upon us.
What are your favorite cold soups? Are there any you'd love to try?
Chilled Zucchini and Potato Soup

Print recipe
Ingredients
1 1/2lb zucchinni
1 1/2lb small russet potatoes
4 scallions
1 tablespoon fresh dill
2 tablespoons butter
1 quart chicken or vegetable stock
2 teaspoons kosher salt
1/3 cup sour cream
Directions
Step 1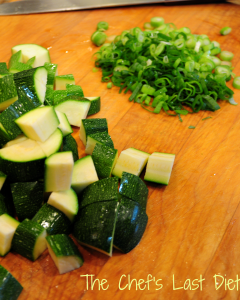 Cut zucchini and potatoes into large (2") dice
Slice scallions into thin slices (don't worry about looks here)
Chop dill
Step 2


Melt butter in a large soup pot over medium heat
When butter is bubbling add scallions and cook over medium heat for 5 minutes

Step 3


Add zucchini, potatoes and stock and increase heat and bring to a boil
Lower heat and simmer for 20-25 minutes until potatoes are tender

Step 4


Put soup through a food mill using the finest die
Stir in dill and sour cream
Taste for seasoning
Chill before serving, ideally overnight