I have nothing against pecan, pumpkin or apple pie, but summer pie is the pie I love best. Soft stone fruit and berries are sweet and luscious and extra good baked in a buttery crust. I can't say I have a favorite one, in fact I like to mix it up and toss some blueberries into my peach pie, or maybe mix nectarines and strawberries. It all tastes like summer and it's impossible to eat a summer pie and not smile and feel contented.
When I owned The Hungry Moon I made pies every day all year 'round. At first I would go to the grocery store and buy Pillsbury crusts, but eventually I became my own pie crust mini factory. In the afternoons after closing I'd make a huge batch of crust dough, divide it into balls, then roll it, wrap, fold and freeze it. I made my crusts with butter so they weren't quite as flexible as the ones I'd purchased and they would break easily. Eventually I rolled them into discs and wrapped and froze those, which worked perfectly. They thaw in about 20 minutes.Pie crust is easy to make, and having crusts all ready to go cut my time way down. I felt so secure having a stockpile of crusts waiting in my freezer.
The most popular pie I made was a key lime pie, which if you make your own graham cracker crust takes less than an hour to assemble, and if you buy a crust you can have it ready in about ten minutes. I think I made a key lime pie every day I owned the diner. If you want to make one here is how: whip one cup of heavy cream, add 1/4 cup of lime juice, I used bottled Nellie and Joe's Key Lime Juice, but I've also used Persian lime juice (the limes you get at the grocery store) add to this one can of sweetened condensed milk, fold gently together, pour into your pie shell, and let it set in the fridge for an hour. If you've made your own graham cracker crust save about one tablespoon of the mixture to sprinkle on top of the pie. Some people top this with more whipped cream, coals to Newcastle IMO, but feel free!
Ginger-peach pie makes me want to swoon, especially if it is warm from the oven and there is ginger ice cream to put on top. Peaches and ginger are meant to be together. Peach-blueberry pie always looks messy but who cares when you've got some on your plate after a dinner of barbecued anything as you sit outside in the fading light. Or perhaps you'd rather have a blueberry lemon crumb pie, right out of the fridge with some iced tea instead of lunch. Its bright flavor and jammy filling will perk you up on a hot August afternoon.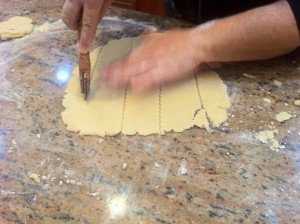 This weekend head over to your local farmers' market and find some ripe, sexy fruit and go home and make your family a pie or two. You can use any of the recipes I've offered here, or swap out whatever looks good to you. If you want to make your own pie crust go ahead, if you don't feel like it, buy one (homemade really is much better) I promise not to judge. If you've never made a pie I say to you what my mom used to say to me, there's a reason the expression is easy as pie!
What is your favorite summer pie?