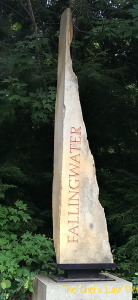 Day three of our road trip (Thursday) started early, we were dressed and out the door by 7:30, on our way to tour the Frank Lloyd Wright house, Falling Water, the inspiration for this trip. Once I realized it was within driving distance of home I started planning this trip, and the rest of it, well, parsley. I don't mean we haven't enjoyed ourselves, or that lunch in Ohiopyle the best name for a place ever, wasn't just perfect, but touring this house was the centerpiece, the raison de tour if you'll indulge me.
We grabbed a quick breakfast at the hotel coffee shop and once again hit the road. The day was overcast and cool, and the perfect weather for our day. There was no hot sun beating down on us, or glare to mar the eight thousand photos we took in a house filled with windows many of which face south. The home is filled with the furnishings and artwork the Kaufman family lived with, as part of the trust set up by Edgar Kaufman Jr. stated that it should look lived in. In addition to the beauty of the house itself, it is filled with art and artifacts, pieces collected by the family as well as gifts from their many (famous) guests.
There are Picasso drawings, a set of Japanese prints, lots of Tiffany glass, books, pottery, all set in a house that is itself a work of art, and craft, and skill and imagination. Rachel and I were equally awed. I had decided to splurge on the two-hour in-depth tour and was so glad I did. We were able to go into every room with a group of only eight people, and a guide who was patient with my many questions.




Of course, I was particularly interested in the kitchen. I was shocked at how small it was, and the lack of workspace. Apparently, Frank Lloyd Wright was not concerned with work areas and functionality in general. He was driven by form and nature and practicality was clearly not even an afterthought.
The doors and windows now have screens on them. They were originally designed without them because part of the beauty of the house was the flow of nature in and out of the house. After spending two summers there the family added the screens. This house, like most of Wright's other structures, is plagued with leaks and upkeep issues. We saw paper towels stuffed into fissures in stone walls of the bedrooms, and a plastic container on a plastic covered desk, meant to catch the rain from the leaky roof.
None of these things make the house any less magical. A family of three, each had their own bedroom. Both Rachel and I fell in love with Edgar Jr's room called the treehouse, a single suite at the top of the house. It felt secret and special and open and airy all at once. Everywhere you looked there was more to see than you could take in. Looking at the photos we took, we each saw things we hadn't noticed in person. I asked our guide Ken who's been working there twenty years if he still finds new things, and he laughed and said it happened almost every day.
We closed out our day with a late dinner at the resort restaurant called Slopeside. It must be spectacular in the winter, but we had a pretty view of the quiet, verdant, summer ski slope. Dinner was nice, but again not spectacular. We were seated near a woman with her teenaged sons who were scarfing down chicken tenders with ketchup, and I felt grateful to be having dinner with my daughter who shared a mozzarella and tomato stack with me, then had gnocchi with roasted vegetables.
That's all for Thursday. We'll be in touch tomorrow from a new destination.