We reached the end of the road Sunday. I made the long drive from Pittsburgh to Philadelphia alone, after putting Rachel on a plane bound for Mississippi. It was a beautiful day for a drive, but I was pretty tired. There was a wedding (or three) at our hotel and our room was a little too near the elevator, so we both got woken up multiple times by noisy revelers. When we woke in the morning it was still dark, and we stumbled out of the hotel hoping we hadn't left anything behind in our luggage shuffling.
After dropping Rachel off at 6:30 a.m. I stopped for breakfast at Central Diner and Grille on the way back to Pittsburgh. My breakfast was enough for two people, and if that's two eggs, I'm scared to see the chicken they came from. It was the perfect place to stop and it has an amazing view overlooking the green hills west of the city. I had to laugh when my trip from the airport towards home took me back through the city, and right past our hotel.
Saturday was the last real day of our sojourn, and we spent it well. I woke much earlier than Rachel (as I usually do) so by the time she got up and we were ready to leave for the day I was already hungry. On a recommendation we headed to the Strip District which was a good long walk. The first place we passed that was offering food was Peace, Love and Little Donuts we shared a half dozen, and I managed to eat them slowly enough to actually taste them.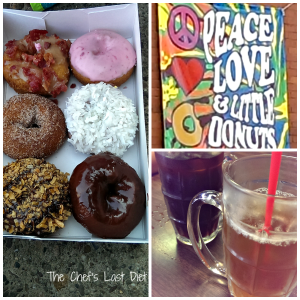 I got a classic cinnamon-sugar, a maple bacon and a Samoa which was toasted coconut over chocolate, Rachel's choices, raspberry, coconut and chocolate. The place is as tiny as the donuts, and there were about five people working in a space about 6X10 frying and decorating donuts, and putting them on a speed rack as fast as the two cashiers were popping them into white boxes for customers.
Satisfied we entered the fray that is the Strip District. There are outdoor vendors, every parking lot is filled with tents of vendors selling everything from crappy socks to fresh produce, and endless stores, small shops and restaurants and cafes. By the time we got there it was already packed with people. Our first stop was at a street vendor Anna's Easel selling do-it-yourself jewelry that was hip enough for Rachel to get a gift for a friend and a ring for herself.
Next was at the street table of Steel City Salt Company where we got more gifts and tasted about a dozen different salts, including Sriracha, espresso, black and pink Hawaiian salt, and a few smoked varieties. By this point we needed something to drink, so we stopped into the bustling La Prima Esspresso for an iced coffee and iced tea. Outside the café at the tiny, round tables sat groups of old Italian men, smoking cigars, playing cards and chatting, but for their iPhones it looked like a scene from my old Sullivan St. neighborhood in NYC circa 1980. Our thirst and need for caffeine slaked we went to chocolate heaven in the form of a shop called Mon Aimee Chololat. This is a serious chocolate shop, with a wide variety of high end and artisan chocolates, with a surprising selection of imported Cadbury, including Flake bars, and the women working there know their stuff. We got more gifts there as well. As the day wore on the streets were getting increasingly crowded.
We stopped for lunch and were making our way down Penn avenue when we found In the Kitchen and practically fell in the door. As soon as we walked in Rachel said "Now this is the kind of shopping I like" (I guess I must be doing something right!) We wandered every aisle, choosing just a few items, then we got to the Lodge display, and I swear Rachel started hyperventilating at the sight of it. We exercised restraint and kept moving. Laden with our day's haul we hopped on the hotel shuttle and went back to our room to pack and get ready for our early morning departure and dinner.
To celebrate the end of the road trip we've both enjoyed so much we went to Nola on the Square a New Orleans themed restaurant on Market Square in downtown Pittsburgh. We shared a salad, I had a wonderful shrimp and grits unlike any I've had before with a rich red-eye type gravy on top, and Rachel had an outrageously rich dish called Mac Daddy, a macaroni and cheese jammed with lobster, and shrimp. When she saw beignets on the menu we had to order those, but they were oddly flat. When our over-solicitous server asked us how they were and I mentioned that I had never seen flat beignets she seemed puzzled, making me think they just don't know how to make them properly. The accompanying sorbets were perfect though, and a nice finish to a heavy meal.
This was our first, but won't be our last road trip. We learned some things about pacing ourselves (we got pretty weary by the end of the week) though I think we did a good job of not over scheduling ourselves. We enjoyed each leg of our trip, had fun, educational and enriching experiences, ate good and pretty good food, read and wrote and didn't watch much TV, though I did have to watch the final episode of The Daily Show which was great. Though we've come to the end of this road, there are many roads ahead of us, and I hope you'll join us.