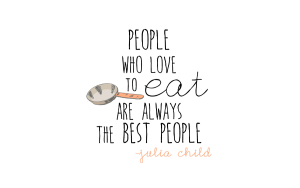 August 15th is Julia Child's 103rd birthday, and I raise a toast and say 'Happy birthday Julia!' When I was in culinary school one of my chefs was talking about her one day and said "Julia Child was the first homie" Huh? When I asked him what he meant he explained that she was the person who elevated home cooking and changed the way Americans cooked at home. Oh, of course. He may not have put it well but he was accurate. I was a little kid when The French Chef first aired on PBS, and I dimly remember watching it with my mother on our black and white TV in the living room of our apartment.
As I got older Julia Child remained present in my life in a peripheral way. The show ran on PBS for ten years and I recall watching it as teenager, and then in the early days of Saturday Night Live there was Dan Akroyd joyously portraying Julia in recurring sketch that was always hilarious. Interest in Julia Child experienced a resurgence with the publication of the book, and subsequent movie, Julie and Julia both of which I think I loved about as much as anyone, and more than many.
What Julie Powell did was make Mastering The Art of French Cooking contemporary and accessible in a way it hadn't been in at least twenty five years. I believe my mother had a copy and as long as I knew her I never saw her open it. This doesn't mean she never did; perhaps in her days as a newlywed bride in the late 1950s she used it to impress her high toned in-laws, but the cookbooks I recall her using on a regular basis (at least in the days I still lived with my parents) was The Woman's Day Encyclopedia of Cooking purchased one volume at a time from the grocery store. I believe I have one volume somewhere in my house.
When Julia Child, Simone beck and Louisette Bertholle published MTAofFC in 1951 Gourmet magazine was in it's tenth year. The year from December 1948 through October 1949 there was a series of articles called An Alphabet for Gourmets written by MFK Fisher, an interesting read, but through the 40s and 50s the magazine is more about food and travel than the trove of recipes and how-tos it became by the mid 1970s. In the 1950s the food trends in the USA were casseroles, outdoor barbequing, and Hawaiian themed dinners. It was Julia who changed the way Americans cooked, ate and thought about food.
It wasn't until Alice Waters came on to the culinary scene in the 1980s that anyone had as much as an impact on the way we eat as Julia Child had. Certainly there have been other important and influential people in the culinary world but it was these two women whose infulence rippled out from their centers changing our American view of what is good food.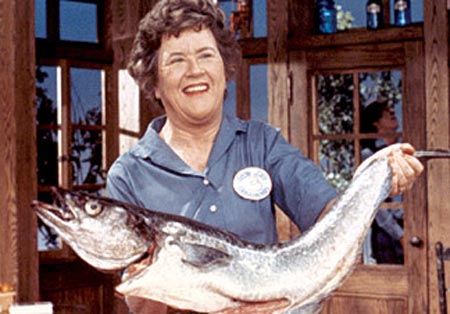 It wasn't just her first book that cemented Julia Child in our lexicon. She came into our homes on a regular basis. She taught our mothers and (your) grandmothers how to cook good food. She fought the tsunami of convenience foods that took hold of America in the 1950s and encouraged women to use fresh vegetables rather than Bird's Eye's frozen ones, and fresh fish rather than fish sticks. That battle continues as we decide if we want to buy a store made rotisserie chicken, or roast our own. You can thank Julia Child every time you eat a croissant, a quiche or ratatouille. You can honor her memory by coming home from work, putting a fresh chicken in the oven, pouring yourself a glass of wine (French of course) and putting your feet up for 45 minutes and while that bird fills your house with its wonderful aroma, raise your glass and say "Happy birthday Julia."