As much as I love fresh summer corn—and that is a lot, I love having leftover corn. I use it for soups and fritters, and this year I'm going to try freezing some. I am pretty much trying to corner the market on corn here in Philadelphia. Last week I (somehow) ended up with an unusual amount of leftover corn, and decided to use my powers for something other than corn fritters (I already have about a half-dozen wrapped up in my freezer). For the best leftover corn, you need to start with the best fresh corn, and I can be a bit rabid about the whole corn purchasing process. Treated well, your leftover corn will retain the sweetness and crispness it had at your first meal.
Saturday morning I woke to several ears of corn in the fridge and not much else. I thought I'd fool around with a recipe for sour cream pancakes, but by the time I added the corn I had a thick batter much more suitable for waffles. The batter for these sour cream corn waffles is simple, and mixes up in a flash. The tangy creaminess of the sour cream is a perfect complement to the sweet crunchy corn, I had a difficult time deciding what was the best way to top these waffles. I made three waffles, so I was able to wrap two and freeze them. Over the week I had one with maple syrup, one with a plum jam/chutney sort of thing, and one with tomato jam. All were good, and if you're feeling cheesy you might think about topping a warm waffle with some smoked cheddar putting it under the broiler, and having that with tomato jam which sounds so good to me I', sorry I don't have any left.
I still had some corn left after making my waffles, and I used that to make a corn and black bean salad. This is one of those salads that has merit as a fine side dish, and would be welcome at your Labor Day picnic or barbecue, but could also make a quick dinner if you wanted to toss in some grilled shrimp or leftover chicken. I am of fan of the basic salad that gets dressed up to suit the occasion. This is one of those salads. Toss in some diced avocado and brown rice for a nice lunch to take to work, spice it up with diced jalapeño, cool it off with some cucumber and mint and feta cheese. We enjoyed it in its basic state with some Thistle cheese we got on a recent visit to Valley Milkhouse and crackers.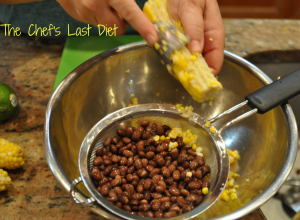 After stripping the corn I stuck the cobs back in the bag, and put them in the freezer. After I add a few more cobs I'll be making some corn stock which will be nice in the corn chowder I'll be making once the weather cools. There are a few more weeks of corn as well as peaches and tomatoes, and I'll be buying them and eating them because as much as I dislike summer weather I adore summer's bounty of fruits and vegetables. It won't be long before It's all apples and hard squash. I think this year I'll try making apple butter, but for now, I'm building my meals around summer corn in all its sweet, crispy glory. What is your favorite way to enjoy summer corn?