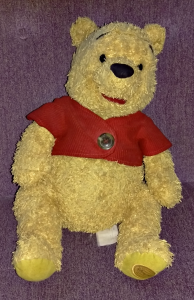 For any of you who love Winnie the Pooh as much as I do, you may get the reference of the title of this post TTFN, or ta ta for now, something Tigger (my favorite character) was known to say. I have a theory that each of us fits into one of the supporting WTP personality types. There are Tiggers (people who get very enthusiastic and can drive other people a little crazy), Eyores who are reliable, but a bit pessimistic, Rabbits, who know everything (just ask them) and Piglet, the over-thinker, and bit of a worrier.
Chef's Last Diet (and I) will be on a short hiatus, as I tend to some personal matters that will take most of my energy and attention. I am looking forward to getting back to writing, cooking and generally sharing my world with you. I hope you are enjoying this lovely Autumn as much, or more than I am.
I'd love to hear which Pooh character you are, so please drop me a line as I'll be around the interwebs over the next few weeks.
Ta ta for now, see you soon.
Love