Today is the last day of November, and the final day of the Yeah Write November blog challenge. No doubt you've noticed I've been posting daily. I don't know if I could have completed this challenge if I hadn't had the month off from work, but I did, and had the time to write daily. Today is also my first day back at work. I had BIG plans for the month, few of which came to fruition, so I'm glad to have participated in this challenge so I can have one more thing I've accomplished.
Things I managed to do in November:
Spend time with my family
Help with Thanksgiving Dinner preparations
Write every day
Do some work from home (not enough)
See friends, lots of seeing friends
Cook
Nap, a lot
Start organizing my HUGE library of pictures which are currently only catalogued by year
To spare you and me, I won't list the things I failed to do, or started but bailed on.
I hope you've enjoyed the pieces you read, and maybe had a chance to read some of the other work at the Yeah Write Site. If not it's not too late.
As today is Monday I also offer you a recipe for meatless Monday. It is a creamy lentil soup, and it is warm and rich with the brightness of lemon, enjoy.
Happy last day of November!
Creamy, Lemon Lentil Soup

Print recipe
| | |
| --- | --- |
| Serves | 4-6 |
| Prep time | 30 minutes |
| Cook time | 45 minutes |
| Total time | 1 hours, 15 minutes |
| Dietary | Vegetarian |
| Meal type | Soup |
This soup is a creamy lemony lentil soup with no cream or dairy, a step up from ordinary lentil soup.
Ingredients
1/2 Large Spanish onion (Chopped in 1/4)
4oz spinach leaves
8oz green lentils
6 cups chicken stock
1/2 cup lemon juice
2 tablespoons olive oil
3 tablespoons butter
3 tablespoons flour
1/2 teaspoon dried thyme
1/2 teaspoon dried sage
Directions
Step 1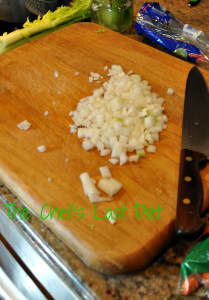 Heat olive oil in a large soup pot, over medium heat
When oil is hot (shimmering) add onions to pot, and stir to coat with oil
Let onions sweat in the oil for 3 minutes, then add celery, and stir again, continue stirring vegetables for 5 minutes, until they are soft and translucent
Step 2


Add 4 cups of stock to pot, and increase heat until liquid starts to boil
Add lentils, sage and thyme, stir well, reduce heat to low, cover and cook for 45 minutes, until lentils are tender
Add spinach to soup, and stir it into the soup
Step 3


In a medium saucepan melt butter over low heat
Add flout to make a roux, and stir for 5 minutes
Combine lemon juice and remaining 2 cups of chicken stock and stir into roux with a wooden spoon that can get into the edges of the pot
Continue stirring until the sauce thickens enough to coat the back of a spoon


Step 4
When sauce is thick enough, add a ladleful of the soup to the sauce and combine well, then add the sauce mixture into the soup
Taste for seasoning, and add salt and pepper as needed