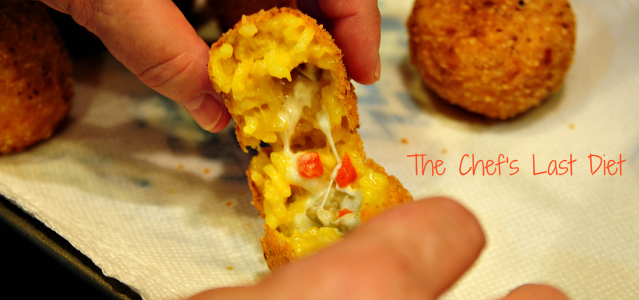 When I was in college in NYC I lived on Sullivan Street (yes the one Billy Joel sang about) and I was introduced to things like arancini, fresh and smoked mozzarella and prosciutto bread. This was years before EVOO was available in every supermarket in the USA. Having arancini available so easily meant I never had to bother making them, and so I never tried. Lately though I've been wanting some, and though I'm pretty near the Italian Market in Philadelphia, in fact there was a festival there last weekend, I decided I'd make some. I had planned to make them last week, but after I bought all the provisions (or so I though) I got home and realized I'd forgotten the Arborio rice.
Most of the arancini I've had have a filling of meat, cheese and peas in a tomato sauce, but I wanted one that had meatiness without meat. Olives were the perfect choice; salty with a density that would be nice with the creamy rice and melty cheese, and not fancy ones, I got a jar of old school pimento stuffed olives. When trying something new I always start with my cookbooks, but didn't find any recipes for arancini (maybe I didn't look hard enough) so I turned to the internet where I found my inspiration at Serious Eats.
For the filling in addition to the olives I used a mixture of fontina and mozzarella cheeses. The fontina has a slight tang, and is a great melter, and the mozz added the stringy factor. The made the risotto with white wine, chicken stock and a generous amount of saffron, so it had plenty of its own flavor which you want because there is a lot of rice to not much filling, so you can't rely on the filling to provide all the flavor; you need the rice to hold its own. It's important to use the saffron partly for the flavor, but also because of the color; arancini means little oranges, and you want them to look orange.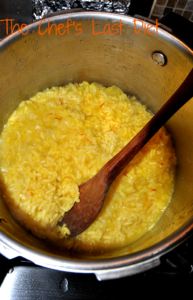 I read Daniel Gritzer's entire post, and all the accompanying links, and was off and running. I had always wondered about making risotto in my pressure cooker, and Gritzer showed me how. Here is my version which you can use, or you can make it the traditional way. This was a mind-blowing experience for me, and if you have a pressure cooker, and love risotto you have got to try this method. I had lovely, perfectly creamy risotto in about ten minutes with hardly any stirring. Once I had pressure it cooked for only six minutes, for real!
Gritzer also recommended using a hybrid béchamel sauce to increase creaminess, which I did and loved the results. Unlike Gritzer I used Arborio, not sushi rice, and I used my favorite breading, matzo meal which gave me a thin and super-crisp shell. I love his use of a flour slurry and breadcrumbs rather than SBP* a technique I will apply to all fried things.
We took about a zillion pictures, but unfortunately didn't get any of actually stuffing the rice balls, so I hope the directions in the recipe are helpful. I will go into a bit more detail here:
The rice will be in a flat shape on the sheet tray, take a piece about 2×2″ in your palm (do not wet your hands)
Put a scant teaspoon of filling into the center (when I started I had hand chopped the cheese, but found I needed it smaller so I put it in the food processor for a few pulses to break it down a but more. The cheese doesn't need to be uniform; it will melt
Gently close your hand around the filling taking care to keep the cheese inside as your form a ball shape. You will probably have to inspect the ball and push any visible cheese into the center. If there is cheese on the outside it will melt and come out of the ball. Like those empty McDonalds' mozzarella sticks.
These are easy and fun to make, and if you don't like my filling recipe feel free to come up with your own, or use some of the many you can find online. This recipe makes 20 fairly large arancini, and we had them with some homemade marinara. You definitely want to eat them hot so you get all the yum, and stringiness of the cheese filling, but because of the crisp outer shell they stay hot for a while. They are a great appetizer, snack or if you are as lazy as we are, an easy dinner. They will freeze well, and can be reheated in the oven. I also strained the oil and will be able to use it again. How soon will you be making these?
*Standard Breading Procedure; flour, egg, breading
Arancini

Print recipe
| | |
| --- | --- |
| Serves | 20 |
| Prep time | 1 hour, 30 minutes |
| Cook time | 30 minutes |
| Total time | 2 hours |
| Meal type | Appetizer |
Ingredients
1 Recipe pressure cooker risotto (found on this site)
1/2 cup chicken stock
1/2 cup cream (or half and half)
3 tablespoons butter
3 tablespoons flour
1/2 cup green pimnto stuffed olives (chopped)
4oz Fontina cheese
4oz fresh mozzarella
1/2 cup flour
1 cup matzoh meal (you may need more)
oil for frying
Directions
Step 1


Melt butter over low heat, and when bubbles subside add flour and mix well, cook for three minutes, then add cream and stock, whisk gently until mixture thickens
Stir into risotto mixture while both are still hot
Step 2


Pour risotto and béchamel onto a parchment or silpat lined sheet pan
Let cool
Step 3


Chop olives and cheese. You can do this in a food processor, but don't over chop.
Step 4


Put about 1/4 cup of cooled rice into your palm, lay a scant teaspoon of the cheese/olive mix into the center, and close your hand to form a ball around the filling.
Be careful to keep the cheese inside, or it will melt and leak out when you fry the arancini
Put the formed balls on a parchment lined tray

Step 5
In a bowl mix the flout with an equal amount of water
Put matzoh meal in a second bowl
Step 6


Keeping one hand dry, put one ball at a time into the flour mix, then into the matzoh meal, coating on all sides
Return to the parchment lined pan

Step 7


Heat 3" oil in a large pot
When oil bubbles around a wood chopstick it's ready
Don't crowd the pot, I used a wide soup pot and was able to fry six at a time
Let fry, turning occasionally for about nine to tem minutes until golden brown
Use a slotted spoon or spider to remove them, and lay on paper towels to drain
Step 8
Serve hot with marinara sauce

Step 9
Wrap any leftover arancini well, and freeze
Reheat in a 375F oven for ten to twelve minutes