I love soup, and when the weather gets warm I start keeping cold soup around. I like raw soup like gazpacho, and I like that I can toss everything in the blender and make it to suit my preference as well as what veggies look good, or need to be cleaned out of my fridge, and borscht which I adore. When I was shopping the other day I saw some fine looking yellow squash, and thought they would make a nice cold soup, so that notion hi-jacked my shopping trip, and I abandoned my list (a bad idea) because now all I have in my fridge are some eggs, iced coffee, iced tea, and cold squash soup.
Recipes for curried squash soup abound, but that wasn't what I had in mind. My soup is simple, and refreshing with dill and mint. I tossed in a Yukon gold potato for added creaminess, and used chicken stock for some base flavor, though as always feel free to use vegetable stock. This is one of those soups that's easy to throw together, and though there is some cooking involved not much. I was hoping it would be a prettier color, but the mint, and more particularly, the dill greened it a bit. I used dried dill, but fresh would be lovely if you have some growing in your garden—I do not. Dill is one of the few dried herbs I like and use often.
The soup was tasty hot, and that was without the mint. I let it cool before adding the mint, and then wooshed it up with my immersion blender. Of course it tasted even better the next day, and I'm planning on taking it for lunch the next few days, but it would make a great centerpiece for a Meatless Monday dinner with some bread and a salad, or some yummy cheese. What are your favorite cold soups?
Yellow Squash Soup

Print recipe
Ingredients
5-6 Small yellow squash
1 Medium Yukon gold potato (peeled)
1 Medium onion
1 quart chicken stock (or other stock)
1 tablespoon clarified butter (or olive oil)
1 tablespoon dried dill (or chopped fresh dill)
1 Small bunch of mint (about 8-9 leaves, chopped)
2 teaspoons kosher salt
1/2 cup sour cream (or yogurt)
Directions
Step 1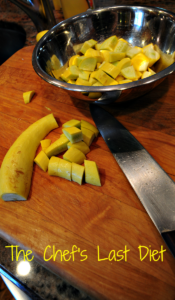 Chop the onion into 1/2" dice
Shop the squash into 1" pieces

Step 2
Heat the oil over medium heat and when oil is hot add onions, and sweat over medium heat for 5-6 minutes until onion is soft, but do not let it brown
Step 3
Add squash and alt, stir well, and continue to sweat another 5 minutes
Peel and chop potatoes into 1" pieces, and add to pot with stock
If using dried dill add that now
Bring to a gentle boil, lower heat, cover and simmer for 20 minutes
Step 4
Soup is done is potatoes are tender
Stir in sour cream
Uncover and allow to cool for about 30 minutes
Add chopped mint and fresh dill (if using)
Puree using an immersion blender, food mill, or (very carefully!) a blender
Step 5
Stir in sour cream, and let cool completely, overnight is best
Taste for seasoning
Garnish with fresh mint or dill, and if you want to be extra fancy a tiny dollop of sour cream