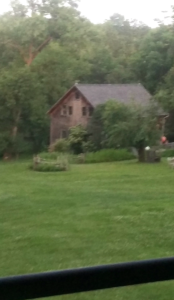 This weekend I attended a great party/bash/baby shower at the home of old friends. Their daughter is expecting her first child, and this family knows how to party! The house is on the New York side of the Berkshires, and sits above a brook. It's a beautiful spot, made ever more beautiful by my friends who constantly work on the buildings and grounds (when I say they work, I don't mean hire people to do the work). I have enjoyed many parties here over the years, often coming early to help with cooking and prep. If I chose a word to describe them, their home and their parties it would be abundance.
Going to the home of a generous family who love food, fun, music and each other (not necessarily in that order) is a great way to spend a summer weekend. Saturday we only had a few dishes to make as someone was bringing the meats; smoked ribs and barbecued chicken. The party officially kicked off at 1:00, and by about 1:30 was well underway. There was potato salad with an astonishing stuff to potato ratio (recipe later) a broccoli slaw; new to me, but one I'll be working on and writing about in the coming weeks, baked beans, about twenty homemade pies; everything from apple, to all fruits summer (OK, no cherry).
It was the prefect day for a party. Bright sunshine, but a breeze that cooled us as we sat under the big tent. The party lasted into the evening as we visited, ate, drank and ate some more. We walked down to the brook for a slight change of scenery, and to let Rachel walk in the water, leaving only as dusk fell and it started to get buggy. We made our way up to the screened porch, but people lingered into the night, enjoying the full strawberry moon, and the cool evening air.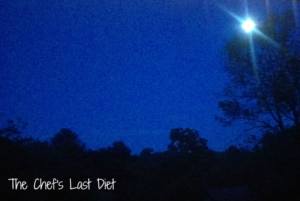 There was way too much of almost everything, especially the potato salad, but everyone loved it, and I'll tell you what went into it. We made about twenty pounds, but you can easily adjust up or down. The one thing about it though is that what the crowd agreed was the winning quality was that at least 1/3 of the salad was other veggies.
I can't take credit for the recipe, I arrived and all the ingredients were handed to me. I did make up the dressing and used my own technique.
BABY SHOWER POTATO SALAD
Boil (in their skins) 10 lbs of red potatoes. Drain and let cool.
2 large red onions, chopped into 1/4″ pieces
6 large red peppers, diced into 1/4″ pieces
6 mini cukes (end cut off, but not peeled or seeded) cut lengthwise into quarters and chopped
18 hard boiled eggs, grated
2 bunches of dill, chopped fine
1 quart of mayonnaise
1/2 cup cider vinegar
1/4 cup mustard (your choice)
Put all the chopped veggies and eggs in the biggest bowl you have, or split them into two large bowls
In a separate bowl mix the mayonnaise, mustard and vinegar, add dill
Mix veggies with dressing
Chop potatoes into bite sized pieces, add them to the veggie-dressing mix mixing as you go until the whole salad is well combined
Chill and eat (you and the salad).