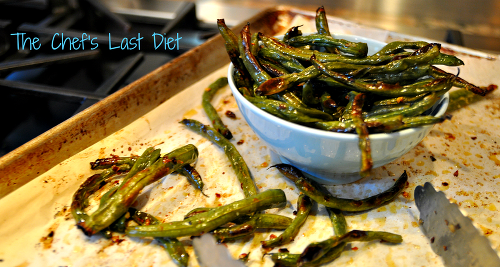 You know those Szechuan green beans you get at Whole Foods Market, or at a Chinese Restaurant? They're wrinkly and soft, but not overcooked. They're so good you could eat them all day, every day, but you can't seem to make them at home. Here is why; they're blanched in the deep fryer. Yep, they may not be batter dipped or breaded, but like so many of our guilty pleasures (or at least mine) they owe much of their greatness to the deep fryer. I oven roast green beans but I thought I'd try to see how close I could get to those deep fried beauties in the oven.
First you need to understand how and why deep frying works. Deep frying is considered dry heat method of cooking because if the oil is the correct temperature it will instantly form a crust around the surface of the food, and surround it completely with the heat of the oil. Greasy fried food is the result of oil that is too cold. Every inch of the item is surrounded by and exposed to the same level of heat. The oil is the vehicle for the heat.
In your oven though the temperature of the interior may register 375° that doesn't mean every spot is at that temperature; ovens have hot and cool spots (even if your oven is perfectly calibrated which it probably isn't.) If you're using convection heat (and you should) air is the vehicle and the convection fan intensifies the heat.
Back to our green beans. As in deep frying, oil is essential to getting them to blanch. If the beans are coated with oil, the air can heat the oil which will essentially oven fry the beans. To get that Asian/Chinese restaurant taste I used a mix of olive and toasted sesame oils. I added a lot of garlic, some salt and a small amount of crushed red pepper; you probably want to use more than I do. I used about half a teaspoon and found my beans spicy.
Because relied on air, I cranked up the heat to 400° with convection so that's like 425° in a standard oven. The beans cooked about fifteen minutes, but you should start checking on them at ten. I like mine with a bit of char on the ends. Once they start to shrink and get wrinkly you can call them done. Add time depending on how well done you want them.
These beans are a great served hot out of the oven, and just as good cold for lunch the next day.
Szechuan Green Beans

Print recipe
Ingredients
1lb green beans (trimmed, and left whole)
1 tablespoon olive oil (or peanut oil)
1 tablespoon toasted sesame oil
1/2 teaspoon crushed red pepper (more if you like things spicier)
3-4 cloves garlic (put through a garlic press, or minced fine)
1 teaspoon kosher salt
Directions
Step 1

Preheat a convection oven to 400F, 425F for standard oven
Line a half sheet tray with parchment or foil
Step 2


Toss all ingredients together, making sure to coat everything with oil
Move to sheet tray, arrange in a single layer
Step 3


Cook for ten to fifteen minutes, checking for doneness, turning beans after 7 minutes
Beans are done when the skins are wrinkly, I like to cook them until the tips are starting to brown