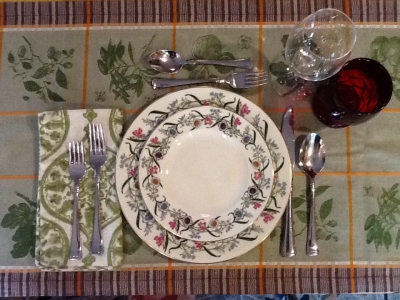 The final four days until is here Thanksgiving! Are you ready? I hope this post will help you with your final preparations. I want to make this the least stressful Thanksgiving you've ever had. It can't be said enough, the more you can get done ahead of time, the easier your day will be.
Setting the table is a great chore for any kids you might have around. Set one place setting exactly the way you want it as a model. Talk them through what goes where, and then challenge them to replicate the setting exactly. I like to put the dessert fork and spoon at the top of the setting, especially if there will be a salad fork and/or a soup spoon.
Not everything has to match, it can be fun to use different colored water glasses, or mismatched but pretty plates. You should also have the kids ice and water the glasses before everyone sits down. If you have room put one or two pitchers of water on the table to minimize the jumping up. If not, a small table with a nice tablecloth can serve as a bar. Make sure you have plenty of ice.
Look through your list of everything you'll be serving, and assemble all the serving pieces you'll need. Count platters/bowls, as well as spoons, forks, spatulas, tongs etc. You can do it today. This way you won't be scrambling around looking for the gravy boat you rarely use, or that ugly bowl your aunt Pearl gave you that you take out when she visits. I like to put tags into each dish so if people are helping they just have to see what goes where, and you don't have to keep stopping to find the right dish, or help people who are "helping". This weekend is also a good time to sharpen your knives and polish the silver. Make sure have enough wine glasses.
Speaking of helpers… There are the people who genuinely want to help, but can't seem to do anything without detailed instructions. Let them put things into the well marked serving dishes which are already out, and waiting. For the competent helpers, be prepared with a list of things you'd like them to do, like chopping. There will be some who have no interest in helping and only halfheartedly offer; you're better off sending them out to watch TV, play Scrabble, or whatever will take them out of your way, rather than having to entertain them while they pretend to look busy, but are actually mucking up your system.
If you have a big crowd use dishes that can go into the dishwasher. Even if it's not full, start the first load between dinner and dessert (while you're putting those leftovers into the fridge). Make sure you have plenty of containers, and storage bags to put everything away, or pack for guests taking food with them. Get some bags of ice ready to go with the food you pack if anyone has a long trip ahead. If you have guests staying over, you may want to do some planning ahead for breakfast Friday; even though everyone swears they will never eat again, chances are they will want breakfast, and coffee, and you need to be prepared.
Use these final four days getting prepped and you're sure to have more time to spend with friends and family on Thanksgiving. For more holiday tips: