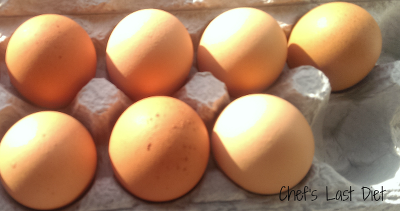 Many years ago I had a friend from Argentina who introduced me to the Spanish Tortilla, and it was love at first bite. A cousin to the Italian frittata, the Spanish tortilla goes by tortilla de patatas or tortilla española, and always includes potatoes. The frittata is a bit looser on the ingredients; the only must-have is eggs. A frittata is usually finished under the broiler, a tortilla is cooked, flipped and finished on the stove or oven. Both are easy and quick preparations that suit any meal you need.
At my house Sunday is our lounge-around day. I wake much earlier than my daughter, and we tend to graze through the day. For us Sunday dinner is often a simple meal. It's also usually what's on CLD on Monday. Saturday night, on our way home from dinner I started talking about what we might like for dinner Sunday. Rachel has no patience or interest in these conversations, but I persist. "What about____ or ____, or ____?" Crickets. I get it, she has other things on her mind. Honestly, so do I, but planning dinner is a good distraction.
Looking around I found a great tip for making a tortilla on Food 52 (my current favorite go-to). I cooked the onions and potatoes on the stove in a pan, but baked the assembled components in a spring-form pan. Despite the temptation to add other ingredients I went classic, and just used onions and potatoes. We had our Spanish Tortilla with some pan roasted Brussels sprouts, and watched the Summer episode of the Gilmore Girls.
Spanish Tortilla

Print recipe
Ingredients
1.5lb yukon gold potatoes (peeled and sliced into 1/8)
1 Large onion (cut in half and sliced thiin)
1/3 cup olive oil
6 Large eggs (beaten)
Directions
Step 1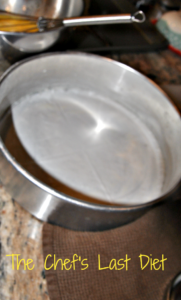 Preheat oven to 375F
Butter a 9" spring form pan and put a circle of parchment into the bottom
Line a sheet tray with paper towels to dry potato slices
Step 2


Put olive oil into a 12" non-stick skillet and heat to medium
Layer potatoes and onions in skillet, and turn gently every few minutes for 20 minutes
Season with salt and pepper
Potatoes will be soft, but should hold their shape
Step 3


Beat eggs
Move potato and onions mixture into spring form pan.
Add eggs
The pan may leak, so either wrap it around the bottom with foil, or put it on another pan
Bake for 15 minutes, until a knife comes out clean
Step 4


Let tortilla sit a few minutes, then run a knife around the edge to loosen it
Open the pan and the tortilla should slide easily onto a plate or platter