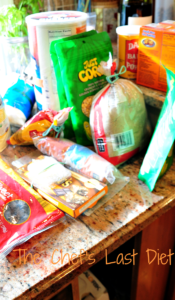 This weekend my house became cookie central. Although I keep saying 'we made cookies' the truth is I made them; 260 of them. I'm sorry I didn't manage to take a picture of my six foot dining room table covered with all of them, and the various tins, containers and boxes we put them into (and yes, in this case I do mean we). Years ago I used to work with a woman who made an insane assortment of the best Christmas cookies I've ever had. Having spent the weekend baking five types of cookies renewed my admiration for her, and her dozen or so varieties of cookies.
I assembled my favorite recipes and set to work. I'd stocked up on butter when it was on sale in November, and went through a shocking amount of it in 24 hours. I think I have one pound left in my freezer. How do I always forget how much butter it takes to make cookies? I made five kinds, and though none are particularly Christmas-y, all are contenders for the best cookie ever.
From Smitten Kitchen I made Crisp Salted Oatmeal White Chocolate cookies. These are deluxe cookies, with a crisp exterior and the creamy white chocolate that caramelizes at the edges. I used a Callebaut block white chocolate. Due to poor planning I bought mine at Whole Foods Market, but if you have time you can get white chocolate chunks from King Arthur Flour for half the price.
Another Smitten kitchen favorite, and possibly one of my favorite cookies ever are Pecan Sandies. These are 1″ squares of buttery deliciousness and I could probably consume an entire batch myself with a cup of Earl Grey tea. Don't be shy about toasting the pecans; I bring mine to the very edge of burning for maximum toasty goodness.
A rece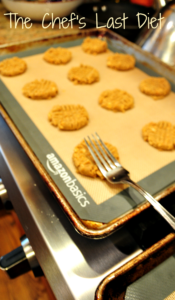 nt addition to my cookie hit parade is one I saw recently on Food 52, and is an upgrade on the classic Peanut Butter cookie, made with browned butter and toasted peanuts. A note on their directions: In step 5 you add the dry ingredients to the butter-sugar mixture. Also, when measuring sticky things like peanut butter I recommend brushing your measuring cup with a bit of the melted butter which will help if slide out of the cup.
Christina Tosi's Corn Cookies sound strange, but are truly fantastic, and once you've had them you will crave them. I'd read about them and when I decided to make them it required some research. Christina Tosi herself replied to my Twitter query, and I'll share the info with you. Corn flour may be hard to come by, and though I bought some, I think you could probably use semolina flour. The freeze dried corn powder is something you have to make. You'll need a small bag of some kind of freeze dried corn such as the Just Corn from Karen's Naturals (formerly Just Tomatoes) and you pulverize it in the food processor. This is one recipe I always make by weight rather than volume.
And finally, what cookie collection would be complete without a Chocolate Chip cookie? I use Alton Brown's recipe for The Thin. Compared to the others this one is a bit pedestrian, and a little too sett for me, but Rachel love them. If you prefer a chewier cookie Alton has a recipe for that as well.
I hope it's not too late for your holiday cookie baking, but any of these are a great cookie for any cookie occasion that comes up this year.
Wishing you happy baking from cookie central!