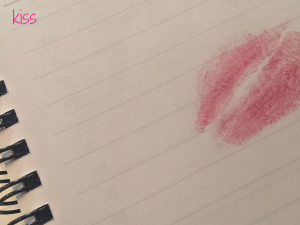 Another Valentine's Day is mercifully behind us. I have been trying to remember one when I wasn't either unhappily single or unhappily coupled. I'm sure there have been some good ones, but none I can recall. Like New Year's Eve, there is a lot of pressure associated with Valentine's Day; love, chocolate, Champagne, cards. As we rush through the year, is there time for a love letter?
When I was in high school I had a sweet, sensitive boyfriend who sent me passionate love letters that I kept in a locked box in my closet. Long after we broke up I kept those letters and re-read them amazed those words were for me. Of course, since then I've gotten cards and notes that expressed love and affection, but none as steamy as the words from that sixteen-year-old boy. Does anyone write letters anymore?
Love is a quirky and specific thing for each of us. We all use our own coded language to express it, and it can be misinterpreted easily. We trade in different currencies and the exchange rate is often unclear. When I was a freshman in college a friend bought her boyfriend gorgeous white tulips. It was the first time I'd know a woman to buy flowers for a man, and its novelty struck me as profoundly romantic. I consider myself romantic, but romance takes time and thought and we're all in such a hurry to get to whatever it is we're chasing.
I am not in love but if I was I would write love letters. Not since my high school boyfriend have I loved someone who would want them. Love letters seem needy or cloying in these days of immediate and constant contact. They belong to an era of expensive long-distance phone calls, and longing. We don't long anymore, we want instant satisfaction, rather than envelopes sealed with a kiss. Is slow love gone? Are we willing to wait for anything? Are we willing to take the time to put pen to paper?
I doubt love letters will make a comeback, but I would rather receive words chosen just for me, than a picture of some x-rated body part with the caption 'U Up?'Have we given up on the gradual build of excitement and the time it takes to truly know the person standing in front of us? If you would gaze into someone's eyes, would you send a love letter and let them gaze into your heart and soul? I was recently wooed with texts and IMs and mistook the chatter for romance, silly me.
Valentine's Day feels like a not so gentle reminder that I am alone and no one has brought me roses or tulips. There are things you get used to and others you don't. There are people who revel in the freedom to do what they want when they want to, but I do not. I'm over it. I wonder if I will ever write another love letter? I'd rather not spend another Valentine's Day alone.