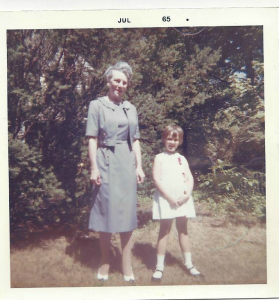 Imagine you're watching a movie and you can see something terrible is about to happen, but the characters have no idea it is the moment before things change forever. Because they aren't aware of the future they're not drinking in every second or paying extra close attention. They are having a regular or in this case a festive moment. The pending disaster is only visible to you, the audience.
This movie opens on my seventh birthday party. I had all my friends there. The dining room was decorated with pink crepe paper, balloons, and we all wore birthday hats. My seventh birthday fell on a Wednesday, so my party was the Saturday before; March 27th. The only gift I remember getting was a white, porcelain piggy bank adorned with pink roses and a black oval stopper in its belly.
Just over a week later, in the middle of the night of Sunday, April 4th, my mother died of a cerebral embolism. She was 33, the following December she would have turned 34. Sometimes when people are dying they cling to life waiting for a holiday, or to say goodbye to someone. My mother didn't know she was going to die; she wasn't sick. There were no goodbyes, no last words, she kissed me goodnight Sunday, and Monday she was gone. I don't even know if she said any last words to my father who was with her. He never talked about that night.
That party is the last time I remember being absolutely unaware of how I felt. When you are motherless child you are other. I didn't know anyone who didn't have a mom. At home we never spoke of her, when grown-ups asked me 'where's your mommy?' and I blurted out 'she died' they didn't know what to say; they'd get embarrassed and uncomfortable then stammer out "I'm so sorry" which I never understood. I felt guilty for my blunt honesty.
No one in my family knew what to do about or for me after my mother's death. They kept me home from school for the week we sat shiva*, and I wandered the house. My brother was a baby, and taking care of him was easy. It wasn't that he didn't need a mother, but his needs were mainly physical, to be held and fed and changed. He wasn't having an existential crisis, and though I was, no one noticed. It would be another 15 years before the weight of my silence hit me fully. I was busy making sure I didn't upset anyone more than they already were. I didn't cry.
I didn't comprehend how little a seven-year-old was until I was in my 30's. I was on a picnic with my friend Pat and her daughters, Eve nine and Nina seven. They were being ridiculous in the way little kids are, and as I watched them play I was overcome. I looked at Nina and started crying. She was still a baby, what would happen to her if she lost Pat? The thing was, I knew what would happen to her; she would grow up. She would always carry that pain in her body, and though it would recede it would also continue to reappear at odd moments with no warning.
I had my first (and worst) emotional melt-down when I was in college. I spent two solid weeks finally crying the tears I'd been holding in since her death. I grew up expecting to die at the same age my mother had been when she died. Turning 34 was painful and terrifying. I inexplicably wept when my daughter started first grade at the same school she'd been attending since pre-k. It took me a few days of feeling completely off-balance before I realized that first grade was the last year my mother had sent me off to school. Grief is sneaky and persistent.
Like most people who have lost parents at an early age, I often speculated how my life would have been different if she'd lived longer. I would fantasize about her coming back as if she could have if she wanted. I dreamed of her being carried away by wolves or huge black dogs. In the dreams, I saw her reaching her arms out to me, and I could feel her being torn from me. It wasn't until I was 19 that I told anyone about those dreams. By then I was having violent and disturbing nightmares on a regular basis. I had a (step) mom, but I still wanted my mommy.
There are moments in every life with a stark before and after things change. My first taste was when my brother was born. Though many followed my mother's death; my father remarried, I moved out of my parents' house, I adopted a child, went through a divorce, that remained the most profound shift I have experienced. I stopped trying to get over it a long time ago, but every once in a while I want to go back to my seventh birthday party; to the moment I was just the birthday girl.
*Shiva is the week of mourning Jews observe after the death of a family member.
Posted on Motherless Daughter's Facebook Page