It was my 20th birthday and my boyfriend said he had something special planned. We had one of those on-again-off-again relationships, but at that moment we were on. My birthday is March 31st, one of those days when the weather is predictably unpredictable. That year the night was a balmy and windy 72°. The evening was to be a series of surprises. He picked me up at my dorm room, and we set off. It felt like summer, but it was dark by the time we left. The warm air felt strange and almost eerie.
We had a romantic steak-frites dinner at a tiny French restaurant. Our next stop was the Americana Hotel at Seventh Avenue and 53rd St. We entered the lobby and headed to the elevators. He didn't have much money and our meal had been a splurge so I couldn't imagine he'd gotten a room. Where were we headed? We got out at the top floor, to a standard hotel hallway lined with rooms. He led me down a series of corridors to an emergency exit door with a large DO NOT ENTER sign on it. We ignored that, entered a stairwell and started walking up.
One of the classes I was taking that spring was a film history class which included a section on Hitchcock. My active imagination went into overdrive and I got more nervous as we ascended. We went up two flights to another door with the same DO NOT ENTER warning and went through that as well. OK, this was it, I was pretty sure he was going to kill me and leave my body on that roof where it wouldn't be found for weeks. How long would it take my roommate Heidi to notice I was missing? Could I fight him off? He was skinny but almost a foot taller, my mind and heart were racing.
He held the door open for me, and I warily walked out onto the roof. There was nothing there, just an expanse of blacktop and the huge electric AMERICANA sign facing out onto Seventh Avenue. He told me to close my eyes and he led me forward. I felt my heart beating madly but I surrendered and let go of my terror. When we stopped he was standing behind me with his hands on my shoulders. He instructed me to open my eyes and swept his arm as if he were a magician pulling away the tablecloth from a table laden with china and crystal. Which it turned out he was.
There, laid out before me, for me, was an uninterrupted view of the city skyline stretching from 53rd St. down to the World Trade Center. The sky was clear and the lights of New York sparkled and glittered, and it was all ours to share. There are many places to gaze at the city skyline, but most of them require waiting in long lines, and admission fees, as well as crowds of tourists, oohing and ahhing. This was private and just for us and it remains one of the most romantic gifts I've ever received. If I close my eyes I can still feel the hot wind, see the lights sparkling, hear the traffic below us, smell the blacktop of the roof soft from the hot day, and taste his mouth on mine we stood there complete and alone together.
His final surprise was a round trip ride on the Staten Island Ferry, which every romantic New York evening should include (if it's warm out) but it is that rooftop moment that stayed fresh through all these years. I have two more Wednesdays in March to devote to birthdays past, but this is by far the sweetest one.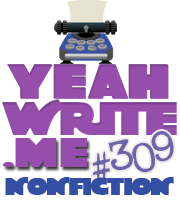 This post welcomes constructive criticism