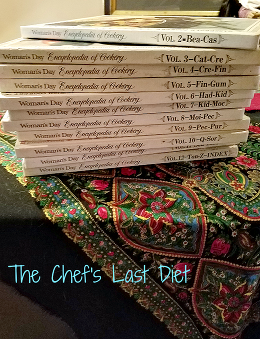 A is for all kinds of things, culinary and otherwise, but today A is for Apple Kuchen. About a hundred years ago (OK, sometime in the last century) my mom accumulated, volume by volume, The Woman's Day Encyclopedia of Cookery. I don't know what happened to her set, but I just bought my own set. For the next 26 (or so) weeks I'll be offering a recipe for each letter.
The first volume included a 59-page section on American Cookery, several pages of appetizers, an Austrian section and an Apple Cook Book, which is where I found the kuchen recipe. There are recipes for aspics, an anchovy and potato pie, and foods like baked Alaska that are no longer in fashion.
Apple Kuchen is a yeast raised coffee cake, just a little sweet, and would be great made with pears, peaches, or apricots though I think juicy berries wouldn't be great here. If you Google kuchen you'll find all kinds, with and without fruit. I remember eating a crisp cinnamon kuchen at my grandparents' house that wasn't anything like this but was delicious.
Apple Kuchen

Print recipe
| | |
| --- | --- |
| Serves | 8-10 |
| Prep time | 2 hours |
| Cook time | 40 minutes |
| Total time | 2 hours, 40 minutes |
| Meal type | Dessert |
| Misc | Child Friendly, Freezable |
| From book | The Woman's Day Encyclopedia of Cookery |
Ingredients
1 packet instant yeast
1/4 cup warm water (105-110F)
3/4 cups milk
2 Large eggs (beaten)
8 tablespoons butter
1/2 cup sugar
2 3/4 cups flour
3-4 apples
1/2 teaspoon cinnamon
1/4 cup raisins
Directions
Step 1


Sprinkle yeast over warm water, and let it dissolve(make sure the water is between 105 and 110 F).Scald the milk then stir in 4 TBL of butter, reserving the rest, and 1/4 cup of sugar, let cool to lukewarm
Step 2


Stir eggs, yeast, and milk mixture together. Add 1 1/2 cups flour until well combined. Cover and let rise in a warm place until dough doubles in size (about 40-60 minutes)
Step 3


Once dough has doubled in size, add remaining flour and knead on a well-floured board until dough is smooth. Return dough to bowl, cover and chill for 30 minutes
Step 4


Melt remaining butter. And use some to butter a 9X12X13" baking dish. Combine remaining sugar with cinnamon and raisins.
Peel and core apples and slice into wedges (about 8 per half).
Step 5
Press dough into baking dish, then press apples into the dough in a nice pattern. Brish with remaining melted butter, then sprinkle the raisin mixture over the whole pan.
Cover and let rise someplace warm, another 30-40 minutes.
Step 6


Bake in a 350F pre-heated oven for 40 minutes, turning once halfway through and baking until edges are brown and apples are tender.