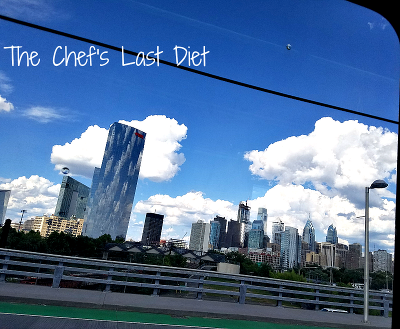 Not that you asked, but these days I ride the bus to work. I've lived in Philadelphia for almost twenty years and this is the first time I'm using public transportation on a regular basis.
When I first moved to Philadelphia from NYC I didn't have a car and biked everywhere. Philly is a fairly flat and bike-friendly city, but eventually, there was a child needing too-ing and fro-ing and I swapped my bike for a car. Now my almost-grown child rides a bike and I ride the bus.
It's hard for me to read on the bus, so I watch the people. I am one of the few riders not staring at a tiny screen. Most people travel alone and avoid making eye-contact until something happens. Last week a blind man got on the bus and a woman got up to help him to a seat. I don't know that he wanted or needed assistance, and her style was odd. She tugged him along by his sleeve, barking at him in what I think was Chinese. The man was not Chinese.
I take the bus at different times almost every day. Sometimes I see familiar faces, but mostly I don't. One person, I see often is a tiny woman who may or may not be homeless. If you are over 65 the bus is free, and she seems well beyond that. She drags a small, plaid cart behind her, and is always wearing the same clothes; a pair of velour pants that come to her shins in a washed out brownish-orange. Her top is a plaid that doesn't match her pants. I haven't seen her in a few days. I hope she's OK.
Monday I watched a young, white guy, no doubt a first-time dad. He got on carrying a stroller that he stowed in the front, a backpack on his back, and his daughter, probably 6-7 months old strapped to his chest. They sat and he seemed harried. I looked away, distracted by a Chinese family boarding. They appeared to be grandparents with their granddaughter. Each one wearing a fashionable straw hat, the little girl had a Hello Kitty backpack. I thought to myself, wearing a hat is a good idea.
I look back at the dad and his nose is pressed into his baby's head. I watch him sniff her, and recall that sweet smell. He keeps bending his head to take in her scent and smiles oblivious to my staring. He gets off the bus one stop before me. A lot of people get off at the same stop. We're near two large hospitals, CHOP and HUP. Maybe he works at one of them, and he's not taking his baby there for medical care.
Though I don't know any of these people I feel connected to them. We share our mornings, or afternoons, and a certain intimacy. Sometimes we're pressed too close together. On rainy or blistering hot days there's an extra funk in the air. I recognize them and wonder if they recognize me. I suppose they do, and I nod and smile, sometimes they smile back. I like them regardless, though I get annoyed at the people who leave trash behind.
I think about getting out my bike, and riding to work, and I decide it's too hot, or too far (it's not) or it may rain. I know riding to work will be good for me as well as a money saving option, but for now, my companions and I ride the bus together.