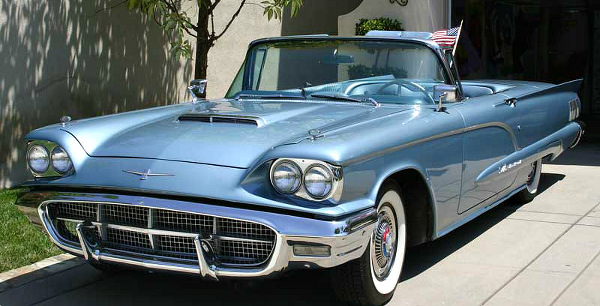 As I pulled out of the parking lot onto Passyunk Avenue I saw the sleek, antique Thunderbird convertible. It was black, the top was down, and seeing it flooded me with distant memories. When I was a little girl, maybe four or five, my grandfather, Bud, promised me that when I learned to drive he would buy me a Thunderbird Convertible. Driving seemed so far off, but I could picture that car and almost see grown-up me behind the wheel of my own red Thunderbird.
Whenever I saw him I pestered him about the car. Did he mean it? Would I really get a red convertible? He always assured me he was serious, it would be his gift for my sixteenth birthday. He died long before I learned to drive. My first car, purchased when I was in my early 30's was a silver, 3-cylinder Geo Metro; the anti-Thunderbird.
My grandfather was the biggest person I knew. He was over six feet tall and heavyset. His personality was even bigger. He was generous, with a huge laugh, and so much fun. I adored him. Each Sunday morning we called him, collect from the wall phone in the hall. He lived in Baltimore with my 'aunt' Blanche, his second wife. She was a (Jewish) Southern Belle, stylish, grand, and perfectly charming.
In the summer my family would drive from Long Island to visit them for a week; a week of me getting spoiled, fussed over and treasured. I got hugged more in a week than I did the rest of the year. Naturally, I loved going there.
We'd have breakfast in the kitchen where their maid Virginia baked me special treats, and Blanche put me on her lap and scratched my back gently with her long, manicured nails. She'd take me shopping for new clothes and bathing suits to wear to the country club where she'd watch me splash around in the pool before we had luncheon with her lady-friends.
My grandfather drove a powder blue Thunderbird convertible, and the two of us would drive together with the top down. I got to sit in the front, as we cruised around the city. If we passed anyone he knew he'd pull over and introduce me. He once took me to the Lexington Market and it felt like we were celebrities. As we walked through the market Bud shook hands at almost every stall, proudly showing me off, as people handed me tidbits of cheese, salami, and sweets.
When you're a little kid you accept the relationships of the adults in your life without question. I knew my grandfather was my mother's father, and that Blanche was his wife. I knew my maternal grandmother who was single had raised my mother alone. I didn't understand the more complex idea that they had been a couple at one point and had produced my mother. The summer after my mother died we went back for the last week we'd ever spend in Baltimore.
On that final trip, for some reason, my grandmother went with us. It might have been awkward for the adults but I was more than grateful for a week's vacation away from the sadness that permeated every corner of the house and the echo of my mother's absence. The year had been a hard one, and going to Baltimore was the first thing that felt normal in months.
Everything was the same there. Blanche's bracelets jangled as she scratched my back, Virginia baked me treats, and at dinner they let me ring the tiny bell to signal the end of each course. My grandfather and I drove around Baltimore meeting our public, in the Thunderbird convertible with the top down, just like we always had.